By: Angie Horjus, NBC-HWC
The busy holiday season is upon us. Schedules are packed with events and celebrations, not to mention all of that pressure to find the perfect gifts for everyone on your list. But don't forget about taking care of a very important person—–yourself.
There are several ways to practice self-care. Areas include, but are not limited to, physical, emotional, intellectual, social and spiritual self-care. This is a "do it yourself project" because you're the only one who can make self-care happen—nobody is going to do it for you. Remember that you'll be far better at it than anyone else could be. It's so important to put yourself at the top of the list of the people you love to take care of, even during the busy holiday season.
I believe there are two types of self-care: regular self-care and better self-care.
Regular self-care satisfies our basic needs. It's the routine of what we do every day; getting dressed, eating breakfast, brushing our teeth, making sure gas in the tank—it's what we do for ongoing maintenance.
Better self-care is practicing the power of quality choices. We all need to eat breakfast, lunch and dinner. However, practicing choice makes this process better. An example of better self-care is enjoying the crunch of a crisp apple in place of the potato chips that usually go with your lunch sandwich—all the while focusing on the fresh taste of a fruit with delicious life-giving vitamins and minerals with 4.4 grams of important dietary fiber.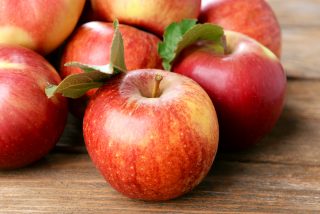 Choose to adopt a "health-focused mindset" on the nutritional value of the foods you prepare. For example, concentrating on the calorie density of a sweet treat (such as a homemade chocolate chip cookie), rather than on it's great taste, could reduce the brain's response to a food reward and lead to eating fewer treats in one sitting.*
The difference between regular self-care and better self-care is that the latter includes health-preserving non-negotiables. We don't have to be perfect, but we do need a clear vision of what being better could look like for ourselves.
Best self-care

Along with covering basic needs and making quality choices along the way, we need to take self-care to the next level for consistency and sustainability over a lifetime. Usually, this entails standing firmly with your beliefs about what you desire.
Here are some of my favorite tips I use as a health coach with my clients about what extreme self-care might look like:
Stand up for your personal self-care time according to your personal standards. For example, figuring out a kind way to say, "No, thank you" sometimes (or often) to happy hour after work in order to make it to your exercise class.
Practice healthy boundaries. This may include inviting people out of your food life or exercise world, if they are unable or unwilling to be supportive of your healthy self-care efforts. Here are some my favorite steps to setting healthy boundaries.
Learn how to teach others that you are being the change you want for yourself. Surround yourself with those who build you up and lift you higher than you could on your own. Spend time engaging in activities that recharge your batteries.
Make a list of ways to practice self-care daily, weekly, monthly and even yearly. Book trips ahead of time for vacations or learning.

Make a weekly self-care planAND put it in a place where you can see it daily. Ask yourself how ready you are to share your plan with anyone if you'd like accountability or support.
Never veer from the plan. Breaking an appointment with yourself is non-negotiable. Make a healthy grocery list and stick to it. Do what you say you are going to do. Keep your promises to yourself. Finish what you start. Be unshakably dedicated to your plan.
Build a repertoire of habits that positively affect your overall wellbeing. Include ways to stay stimulated with learning and build in fun ways to avoid burnout. Be sure to steer clear of obvious stress-causing situations.
Redefine the word "treat." It's ok to order fresh, cold water at the restaurant, even if that is the place you and your friends always order soda as a "treat."
Plan ahead by packing light exercise bands in your suitcase to use while traveling with others who don't exercise so you are still able to. Carry your beliefs along with you no matter where you go. Live it.
Manage your good health with pride. When others tell you that you can't, show them the contrary. Get your fitness walk in NO MATTER WHAT while away from your natural daily environment for several days (such as traveling to your in-laws for the holidays).
Adapt and adjust when needed. Shake off what someone said by taking a moment to restart your good day; tailor your food portions to the time of day. Listen to your body if you need to adjust your workout.

Be flexible. Do the activities that are possible to the maximum while remaining relaxed and chilled out on the other things that are not in your control.
Fine tune your self-care measures to make them personally work for you. Teach your body what you want it to do. Add intensity or duration to your workouts. Let your body show you what it is capable of. Listen to your body and make exercise adjustments or schedule rest accordingly.
Commit deeply to your plan for self-care. Demand enough time, available energy and appropriate attention for personal daily self-care, as we do so lovingly for others.
The best part about self-care is that it's self-directed and comes with a variety of choices. Reading articles and interviewing friends or coworkers on what their best practices are for self-care can give you many great ideas and places to begin your routine. Set a foundation of consistent self-development by creating experiences for personal growth. Setting weekly and monthly goals around optimal self-care and reviewing at the end can remind you of how far you've come since the beginning. Committing today to boosting extreme self-care care bolsters esteem and builds confidence as you take small action steps forward.
About the Author: Angela Horjus is among the first National Board Certified Health and Wellness Coaches at Priority Health, and in the US. She approaches her clients and all people with curiosity, respect and a spirit of fun. Angela's passion for helping others become the best versions of themselves has inspired her current work as a health and wellness coach and throughout her past ventures. Her fitness career of 20 years, including but not limited to group fitness and personal training, cultivated the inspiration to write articles promoting self-improvement and personal growth. Angela's continuing education is with nationally recognized institutions in health, fitness and wellness specialties. She also has an English degree from Grand Valley State University. Angela is currently working on her American College of Lifestyle Medicine certification.
*according to a study in July 2018 at an annual meeting of the Society for the Study of Ingestive Behavior