7:55 pm update – Kent, Muskegon and Ionia Counties have now been added to the Winter Weather Advisory. This is for a period of freezing rain or freezing drizzle later this evening and tonight. Surface temperatures have dropped into the low 30s. Watch for icy spots to develop later this evening and overnight.
A Winter Storm is moving through Michigan tonight and tomorrow, bringing rain, freezing rain and snow to our state, along with an outside chance of a thundershower. Much of the area south of I-96 will see mostly rain or all rain. North of that line we could see a period of freezing rain later tonight into tomorrow morning. Significant snow will fall across Upper Michigan and far northern Lower Michigan.
At 9 pm, the temp. was down to 32 in Muskegon, 31 in Gr. Rapids and 30 in Ionia. Looks like we could fall a couple more degrees before we level off. Watch for freezing rain/drizzle and roads could become very icy north of a line from Holland to just south of Lansing.
A Winter Weather Advisory is in effect tonight into tomorrow morning for Oceana, Newaygo, Montcalm and Gratiot Counties to the north, where there is a good chance of freezing rain and some nasty road conditions for the Tuesday AM commute. The Advisory begins at 7 pm this Monday evening (rain will begin after 9 or 10 pm) and lasts into Tuesday.
There is an Ice Storm Warning for two tiers of counties – from Manistee, Benzie, Grand Traverse and Wexford Counties east to Lake Huron. Winter Weather Advisories cover the rest of Northern Lower Michigan and much of Upper Michigan.
Here is the complete U.S. weather hazards map: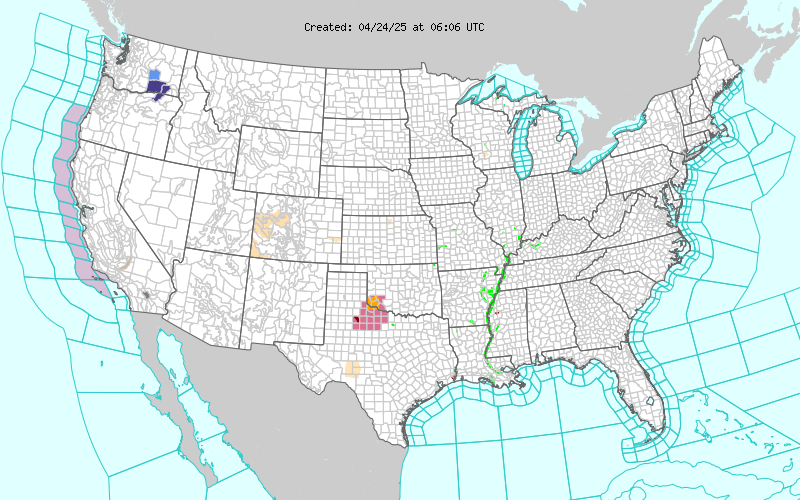 Radar