Storm Reports from Monday AM (11/6): 1 1/2″ diameter hail fell at Sand Lake, where winds hit 50 mph, 1 1/4″ hail southeast of Newaygo, 1″ hail at Twin Lake and near Stony Lake, 3/4″ diameter hail at Whitehall and Cedar Springs, 7/10ths-inch hail at Howard City and Six Lakes, . Pea-sized hail (1/4″ diameter) at Stanton, Cannonsburg, W. Branch, Cadillac, Bendon (Benzie Co.), Shelby, Whitehall, Ensley Center, Kent City, Burnips and Plainfield Township.
Peak wind gusts: 49 mph at Frankfort, 48 mph at Holland and Norton Shores, 45 mph at Ludington and Lansing, 42 mph at Au Sable and Greilickville 41 mph at Grand Rapids and E. Tawas, 40 mph at Battle Creek, Howard City, Gaylord and Oscoda and 39 mph at Ionia and Traverse City. 36 mph at Benton Harbor and 35 mph at Kalamazoo, Flint and Jackson. Hail video from Oceana Co.
There was also occasional to frequent lightning with the line of storms that stretched from Kent County to the Mackinac Bridge. By 2 pm, the line had moved across Lake Huron and into Ontario, Canada. Here's video of the hail in Canada.
As of 2 pm Monday (11/6), there were only 1,550 Consumers Energy customers without power. That included 452 in Mecosta Co., 268 in Mason Co. and 124 in Kent Co.
Monday will be the windiest, warmest and (possibly) the wettest day of the week. First, we had Gale Warnings in effect for Lake Michigan. GALE WARNING: A warning of sustained surface winds, or frequent gusts, in the range of 34 knots (39 mph) to 47 knots (54 mph) inclusive, either predicted or occurring, and not directly associated with a tropical cyclone or hurricane.
The Gale Warnings were in effect until 7 pm Monday and they covered all of Lake Michigan, Lake Huron and southeast Lake Superior. Wind gusts of 40-46 mph were possible at Lake Michigan, with peak gusts of 30-40 mph inland. Winds that strong will generate waves of 5-10 feet on Lake Michigan.
Waves at the Muskegon buoy peaked at 10 feet around 10 am Monday. Over the weekend, they took out the Port Sheldon and South Haven bouys for the winter season. They'll likely be put back in the water next April or early May. Thanks to Limnotech and to all who contributed to get the buoys out on the lake during the boating season.
Here's the National Weather Service/Coast Guard flags and (night) lights that correspond to the advisory and warnings. For Small Craft Advisories forecast sustained winds or frequent gusts (on the Great Lakes) between 22 and 33 knots inclusive, and/or seas or waves greater than 4 feet. For Storm Warnings (rare) forecast sustained surface winds, or frequent gusts, in the range of 48 knots (55 mph) to 63 knots (73 mph) inclusive, either predicted or occurring, and not directly associated with a tropical cyclone or hurricane. You'd have Storm Warnings out for an "Edmund Fitzgerald" type storm.
This was the Storm Prediction Center Thunderstorm outlook for today (Mon. 11/6). First, there are no areas of severe weather outlined. We have only light green on the map for general, non-severe storms that will move thru Lower Michigan this morning.
Severe weather is defined as wind gusts to 58 mph or greater or hail 1″ in diameter or greater.
Second, look at the areas outlined…kind of odd for any month, much less November. We have the possibility of a thunderstorm over the Great Lakes and in the Pacific Northwest. SPC says: "Severe thunderstorms are not forecast across the Continental U.S. today, although, lightning is expected with convection across a few areas, namely the Pacific Northwest and Great Lakes region." A pronounced, fast-moving short-wave trough will eject across Lower MI, then into the lower Great Lakes by late evening. A strong low-level jet will evolve ahead of this feature and warm advection is expected to encourage elevated convection within a zone of large-scale ascent. Forecast soundings suggest parcels lifted near 850mb (about a mile above the ground) will yield around 500mb MUCAPE (Most Unstable Convective Available Potential Energy), more than adequate for lightning with this activity."
There is also the chance of small hail and wind gusts to 40-50 mph with the strongest storms.
This is a pic. of small hail in Oceana Co. around 8 am (from Matt Koppel). Frequent lightning was also reported. There was a slightly better chance of a t-shower from Kent Co. to the north and a slightly less chance (though still a chance) toward the Indiana border.
Hail in Shelby – from Kathy Sue Uber
Hail at Twin Lake in Muskegon Co. – from Shannon Jurecki
Also small hail in Cadillac. Lightning over Little Traverse Bay.
Rainfall amounts will not be real heavy, less than 1/2″, though the rain may come down at a good clip for a little while. With fairly strong winds, umbrellas will be a bit challenging at times. Here's radar:
Lower Michigan Radar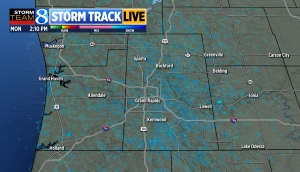 Ottawa, Kent, Ionia and Montcalm County radar
Midwest Radar
Northwest U.S. radar
Here's forecast high temperatures for today across the contiguous U.S. We'll reach low 60s along I-96 and mid 60s along and south of I-94. Chicago climbs to 68 degrees. Much of the southern U.S. is warm with low 90s in southern Arizona and low-mid 80s at the Gulf of Mexico.
Here's forecast high temperatures for next Saturday, Veterans Day
Cooler air will start to move into Michigan on Tuesday and by next Friday/Saturday/Sunday, temperatures in Lower Michigan will be back in the mid-upper 40s.
ALSO: The higher elevations of the West are going to get more snow…with 6-12″ expected above 7,000 feet in the Sierras – already starting a winter snowpack that should keep California reservoirs adequately filled thru 2024.
ALSO: Big waves on the French coast. Amazing fast-motion lightning. Rare heavy rain in Oman. Cars tipped over by strong winds in Greece. The bad news…this restaurant in Thailand is flooded out…on the other hand, the fish dinners are very fresh. Beautiful fall colors in Montana. California is drought-free for the first time in over 3 years. Chicago in 1937 compared to today.