Hurricane Tammy will continue to move northward, moving away from the Lesser Antilles Islands. It's the 20th named tropical storm of the season. Fortunately, most of the tropical storms and hurricanes this season have missed land areas.
The eye or center of the storm passed over the island of Barbuda, where an unofficial wind gust of 90 mph (78 knots) was recorded. We continue looking at updated models that take Tammy close to the island of Bermuda next weekend (as a Tropical Storm).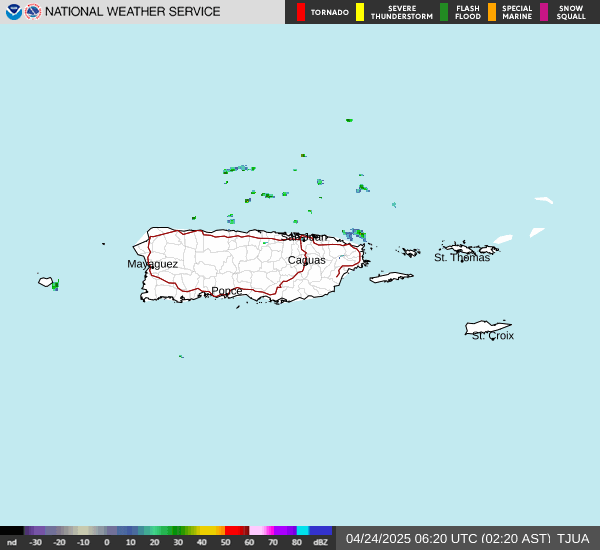 Puerto Rico/Virgin Islands Radar
Puerto Rico NWS weather discussion. A funnel cloud was spotted near Santa Isabella with local flooding across isolated parts of Puerto Rico. PR-199 was briefly closed at Trujillo Alto due to flooding.
Here's the forecast track of hurricane Tammy. It will likely remain a low end hurricane (to be a hurricane, a storm needs +74 mph winds). Then the storm continue moving to the northeast and then northwest.
The map above shows the forecast probability of tropical storm force winds (+39 mph) and the map below is expected rainfall over the next 7 days.
Rainfall over the next 7 days. As I said, this won't be a super/major hurricane. At this point, the most likely scenario is that like many hurricanes and tropical storms this fall, "Tammy" will likely miss the eastern U.S. mainland.
A tropical depression moved into Nicaragua with some heavy showers.
Atlantic Hurricane Season peaks on Sept. 10. You can see activity tails off after Oct. 15. While tropical storms have occurred in every month of the year, there is relatively little activity in November and December in the Atlantic Basin.
Tropical storm Norma weakened to a depression as it moved into the Mexican mainland.
This storm will brought strong wind and heavy showers to the southern area of the Baja Peninsula. Winds were a bit weaker on the mainland.
Moisture from this storm will then move northeast into parts of Texas and the southern Plains where there will be showers and isolated t-storms.
We also have Tropical Storm Otis, which will move into the Mexican mainland. It will likely remain a touch below hurricane strength, but should produce strong winds and heavy rain – especially west of the Continental Divide.
Typhoon "Lola" is a strong hurricane and is well northeast of Australia in the Southern Hemisphere. It's moving north, toward the Equator.
Tropical Storm "Hamoon" will move onshore into Bangladesh near Chittagong, producing strong wind and very heavy rainfall. Flooding will be an issue.
In the Arabian Sea, Tropical Cyclone 5A weakened as it moved off the Indian Ocean into eastern Yemen and western Oman (see map below).
We just had typhoon "Bolaven" from Oct. 6-14. This is how it looked at peak intensity on Oct. 12. While it was a major hurricane, it managed to miss most land areas, as have many hurricanes this season. This was a "recurving typhoon"…with a path similar to the letter "C". Often, a recurving typhoon is synonymous with an upper level trough in the eastern U.S. That is the case now with a cool, cloudy and wet pattern over the Great Lakes and much of the East. The prospects are for another cold front bringing chillier air to Michigan in the Oct. 28-30 period.
Here's the current ACE Index – a measure of the number of and strength of tropical storms and hurricanes. The current ACE Index is listed for each basin along with the average ACE-to-date in parentheses).
Hurricane activity has been above average this season in all basins of the Northern Hemisphere. For the entire Northern Hemisphere, the current ACE is 589.4 and that's 123% of average. As I said, fortunately, hurricanes this year have done a good if not extraordinary job of missing significant landfalls.
The map above shows sea surface temperature anomaly (difference from average). You can see the warm water along the Equator west of S. America. That's characteristic of the El Nino Pattern, quite a different pattern from the last 3 winters. Again, the big question regarding the weather patterns for this winter is…will the strongest part of the El Nino stay closer to South America or will it migrate more toward the Central Pacific Ocean (called a Modoki Pattern).
In any case, it's likely that the city of Grand Rapids (Ford Airport) will see less snow this winter than last winter. We had 111″ of snowfall last winter, including 28″ in November. There was more snow inland along US 131 in Kent Co. than there was along the lakeshore, due to stronger winds and wind direction (west, not northwest) causing the heavier lake-effect snow to fall farther inland, rather than close to Lake Michigan.
ALSO: Check out the cloud over the Rock of Gibraltar. Weird ground heaving.