We started Monday with frost and a freeze. The temperature fell to 30° in Grand Rapids, 25° in Cadillac, Baldwin and Evart and 22° at Leota (Clare Co.). In the evening, thunderstorms produced hail and brief heavy downpours along that same area – the U.S. 10 corridor.
Today there's a Marginal Risk of a severe thunderstorm along and north of US 10. The storm prediction center says: "A cluster of elevated thunderstorms will likely be ongoing this morning over WI…in an environment for the stronger storms to be capable of an isolated hail risk. This activity will probably continue and move farther east during the day into northern Lower MI. with some additional storm development possible west of the MS River in southeast MN during the afternoon near a southward-sagging front. A lingering risk hail/wind risk may accompany the stronger storms during the afternoon/early evening before weakening."
Here's Michigan/Wisconsin radar:
Southern Lower Michigan Radar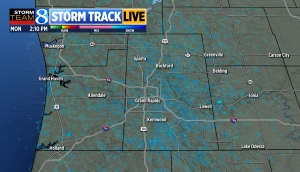 Grand Rapids area radar
Midwest Radar
National Radar
Northwest Radar – the blue is snow
Here's high temperatures for this Tuesday. Chicago reaches 80° this afternoon and mid 70s are likely from the I-96 corridor to the south. The average high temperature for today in Grand Rapids today (Tue.) is 57°. The record daily high temperature for this Tuesday is 80°.
Here's forecast high temperatures for next Monday, October 30. Look at the cold air from Michigan to the Pacific Northwest and south to Texas. High temperatures may only be in the mid-upper 40s in West Michigan next Monday (and Tuesday – Halloween). Cold fronts will bring showers and there will likely be some lake-effect showers, possibly even mixed with a little wet snow. The European model takes the temperatures a mile above ground into the upper teens. That may be overdone, but if it's close to correct, it's possible we could see some wet snow anytime from Monday thru Wednesday of next week. BTW – two months from today…it's Christmas Eve – Ho Ho Ho!