More snowfall totals: 13.3″ at the Lansing Airport, bringing their season snowfall to 36.8″. That's 6.1″ above average-to-date. Kalamazoo 10.3″ – season snowfall-to-date up to 42.3″ and 12″ on the ground. Grand Rapids officially had 5.1″. The season total is now 50.7″. That's more snow than fell all of last winter and it's only 1.5″ below average-to-date. Muskegon reported just 0.4″ of snow with a season total now 36.2″. So, Lansing has had more snow this winter than Muskegon (pretty close, though) and Grand Rapids tops them both.
St. Joseph received 13″ of new snow and South Bend recorded 11.2″. Mottville had 10.8″, 10.5″ at Fair Plain, 10.3″ at Stevensville and 10″ at Buchanan.
Winter Storm Warnings continue today for much of northern and central Indiana and Ohio.
Roads this Thursday will have slippery spots, especially side streets and lesser-traveled rural roads. Sidewalks, driveways and parking lots may also have slippery spots.
Temperatures soared into the mid-upper 40s Tuesday afternoon, the warmest we've been since Christmas Day. It actually reached 50 in Lansing. However, the cold air has settled in and temperatures will likely hold in the low 20s during the day today and we should get a little below zero in many areas early Friday morning.
Friday temperatures may hold mainly in the mid-upper teens. Some snow is possible Friday night (esp. west of US 131) and again perhaps on Sunday. While we may get temps. back a little above freezing next week, I don't see any big warm-ups coming anytime soon.
The European model has been shifting slightly southeast with the snow.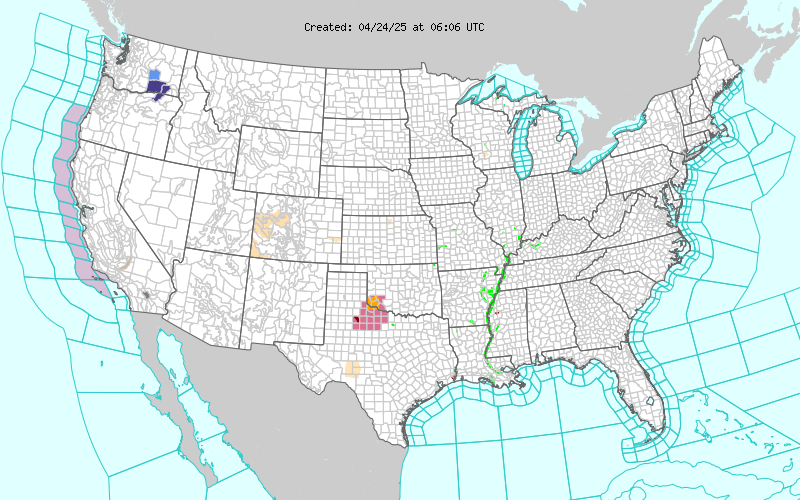 Here's the top 25 snowstorms in Detroit:
This is the National Hazards map…you can see the path of the storm from Colorado and New Mexico to NW New England. Pink is Winter Storm Warnings.
We got some really nice drone footage of the Lake Michigan shore.
We got some very nice drone pics. of the Lake Michigan shore over the weekend. Thanks to Logan Breuker and Matthew Teneyuque.
Now, a couple of graphics to show you the snow and wind produced by the East Coast blizzard.
Here's some links: Massachusetts/New England weather observations, a surface weather map, the Boston NWS forecast discussion. Hurricane force wind gusts occurred along the coast and over the open water. Snowfall totals of 2 1/2 feet or more have been recorded and wind gusts over 80 mph on the coast. As of 11 pm Sunday, there were still 3,500 customers without power in Massachusetts.
Here's Northeast U.S. radar. Green is rain, blue is snow.
a
Also: Telescope captures 3 galaxies in epic photo. Flooding on the island of Nantucket from the East Coast Blizzard. The daily maximum rainfall record was broken in College Station, TX, Monday when 3.40″ fell. This smashed the previous record of 1.75″ set way back in 1896. The rainfall on Monday accounted for 99% of their monthly rainfall. Freeze Watches for the California Valley. Did anybody see this here in Michigan? Oklahoma sunset. On January 29, 1922, half an inch of snow fell at Death Valley CA – the only time measurable snow has been recorded there. Very cold temperatures in Cuba Mon. AM – 3.2°C at Havana was the coldest temp. there since 1940. 4.5C at Freeport in the Bahamas is the coldest temp. in decades. It's been an exceptionally snowy winter for parts of Japan, where they've had more snow than any year since 1980. Low of 45 at Key West is the coolest temperature there in 10 years.
Happy February, everyone!