There could be a shower yet this Friday night – Cooler air moves in for the weekend.
Above is the Severe Weather Outlook Map from the Storm Prediction Center. The green areas have a chance of thunderstorms tonight – but the chance of thunder is quite small and mainly east of Jackson.
We also have a chance of snow on Halloween. Some models even predict that the snow could accumulate, mainly on the grassy areas. In any case, make sure your kids are dressed for temperatures in the mid 30s during trick-or-treat time.
Here's Michigan/Wisconsin radar:
Southern Lower Michigan Radar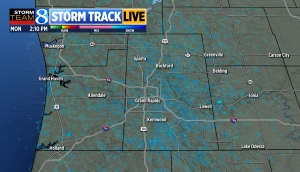 Grand Rapids area radar
Midwest Radar
National Radar
Here's high temperatures for this Saturday. Maybe 50° in Grand Rapids – 30s for the western U.P. back across NW Wisconsin and Minnesota – so colder air is on the way. Most of Saturday should be dry. We'll have a chance of showers on Sunday and Monday.
Here's forecast high temperatures for next Tuesday, October 31 – Halloween. Look at the cold air from Michigan to Montana…highs in the 40s down to N. Texas. High temperatures may only be in the near 40° in West Michigan. Cold fronts will bring showers and there will likely be some lake-effect showers, possibly even mixed with a wet snow. The European model takes the temperatures a mile above ground into the upper teens. That may be overdone, but if it's close to correct, it's possible we could see some wet snow anytime from Monday thru Wednesday of next week.