We didn't get many of the golf and softball leagues in Monday evening. A band of showers and isolated thunderstorms moved through West Michigan, producing heavy rain in some areas.
The map above shows Storm Total Rainfall. The legend is in the lower left. Note the heaviest rainfall was over Lake Michigan. The orange color represents over 10″ of rain. This is probably a little overdone, but that's a lot of rain!
Storm Total Rainfall: Caledonia 4.46″, Hamilton 4.40″, Grand Haven 4.10″ South Haven 3.94″ (1.65″ in an hour!), Allegan 3.18″, Grand Haven 3.12″, 3.08 Vermontville, Holland 2.81″ (daily rainfall record for 8/14), Lawrence 2.77″, Vatervliet 2.68″, Jamestown 2.51″, Hudsonville 2.47″, Charlotte 2.37″, Fennville 2.23″, Kent City 2.21″, Grandville 2.20″, West Olive 2.19″, Grand Ledge 2.11″, Bradley 2.08″, Hastings 2.01″, Muskegon 2.01″, Grand Rapids (airport) 1.49″ (1.22″ on the 14th – 2nd wettest 8/14 ever), Comstock Park 1.91″, East Gr. Rapids 1.69″, Sparta 1.51″, Lansing 1.50″, Ionia 1.49″, Belding 1.24″, Battle Creek 1.22″, Fremont 0.86″, Big Rapids 0.84″, Kalamazoo 0.79″, Hart 0.76″, Marshall 0.74″, Ludington 0.48″.
A Flood Watch was posted for the counties along and in-between I-96 and I-94 with a Flood Warning for Allegan and northwest Van Buren Counties.
There was also a Beach Hazards Statement for Ottawa, Allegan, Van Buren and Berrien Counties in Michigan and La Porte County in Indiana. That expired at 8 pm Monday. Waves at the S. Haven buoy were up to 4 feet with a maximum wave height of 6.1 feet.
They got some significant rain in Wisconsin: Horicon 4.15″, Powers Lake 4.00″, Brownsville 3.62″, Arlington 3.50″, Beaverdam 3.40″, Elmore 3.29″, Dodgeville 3.11″, Hartford 2.98″, Racine 2.48″, Platteville 2.46″, Milwaukee 2.06″, Madison 2.00″.
The Weather Prediction Center had a Slight Risk of excessive rainfall across southern Lower Michigan for this Monday night. The event was handled well by both the WPC and the local Grand Rapids National Weather Service.
Here's the latest Grand Rapids National Weather Service Forecast Discussion.
60 mph winds and tree damage was reported near Bridgman in Berrien County. The Storm Prediction Center had only Berrien County in the final Marginal Risk Area and that turned out to be spot on.
RADAR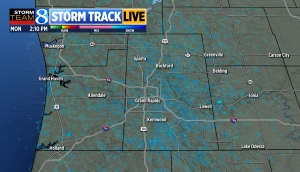 We should be dry for most of Tuesday and all of Wednesday with a good chance of showers or a t-storm again Wednesday night or Thursday.
Temperatures this week will be near to slightly below average with highs from the mid 70s to low 80s. No 90's this week.
Grand Rapids had just 0.76″ of rain through the first 13 days of this month as of 8 am and that's just 49% of average. So, the ground soaked up a lot of the rain we received.