We had to wait until August to get the first tornado of the year in Michigan, but we didn't have to wait long in August. A small tornado touched down in Taylor, Michigan at 12:44 a.m. last night. Here's video of the tornado going thru power lines. The tornado was small, rated EF0 with estimated winds of 80 mph. This was just a few miles east of the Detoit/Wayne County Airport. Here's an overhead view of the tornado path:
Here's the tornado path on the south side of Taylor. It was on the ground for 8/10ths of a mile. The width of the twister was 100 yards – so it was as wide as a football field is long. It lasted for just 2 minutes and was traveling at approx. 25 mph.
The storm also produced winds estimated at 60 mph in nearby Lincoln Park. Heavy rain also accompanied the storm:
Three buildings were damaged and severe trees were knocked down. You can see pictures of storm damage here and here. There's a nice summary of the storm from the Detroit NWS here.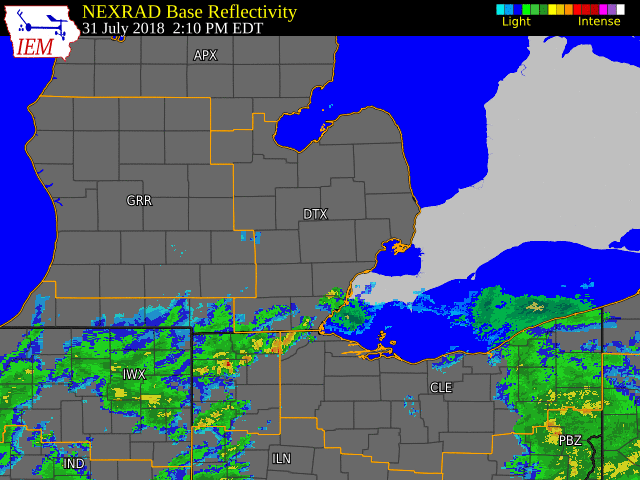 Here's a (small) radar loop of the storms.
The radar image at the top is velocity data. The green color is wind moving toward the radar and the red is
wind moving away from the radar. Bright colors next to each other indicate a sharp wind shift (rotation).