This was the updated (Wed. PM) Severe Weather Outlook Map from the Storm Prediction Center for Wed./Wed. night. The threat level was reduced from Slight to Marginal for Lower Michigan. This was due mainly to reduced instability due to the overcast conditions and the rain we have had.
There was no severe weather and in fact, very little lightning with the showers that come through the area Wednesday evening. We had some heavy downpours. I had nearly half an inch of rain in an hour and 0.84″ total.
Wind gusts hit 62 mph at the Chicago Water Intake, 53 mph at O'Hare Airport, 50 mph at Midway Airport, 58 mph at Manhattan IL and 55 mph at Plainfield IL.
There was a Moderate Risk of severe weather from extreme SW Indiana and S. Illinois down through NW Mississippi. Surrounding the moderate risk there was an Enhanced Risk Area (in orange on the map) from Indiana to the south. That was surrounded by a Slight Risk Area (in yellow on the map, which now comes up must to Fort Wayne IN. The Marginal Risk (in dark green on the map) includes much of the rest of Lower Michigan. SPC said:
"Numerous severe thunderstorms appear likely today across a large part of the lower/mid Mississippi Valley northward into the Midwest and lower Ohio Valley. Several tornadoes with some strong, widespread damaging winds, some of which could be significant, and large to very large hail will likely occur."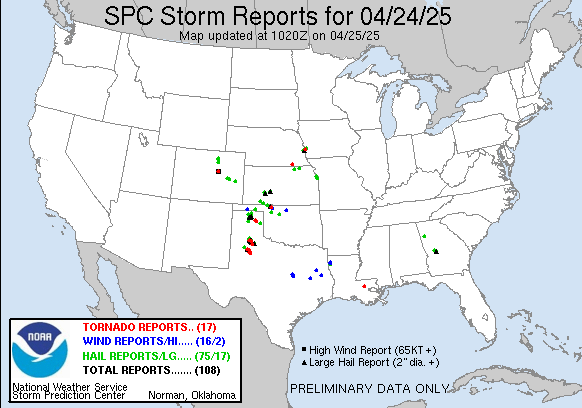 Here's storm reports from Wed. PM/night – 3 tornadoes with one injury in the OK twister. LOTS of wind damage reports (blue dots) with winds measured up to 82 mph and hail to baseball-size.
Check out current severe thunderstorm and tornado watches, any meso-discussions, michigan weather observations, a Michigan weather map…and the latest G.R. NWS forecast discussion.
."
Here's radar
And Midwest Radar
The Severe Weather Outlook Map for Thursday (4/13) shows a lower Marginal Risk from New England to the Gulf of Mexico. SPC says: "An isolated threat for strong/damaging thunderstorm winds may exist across parts of the Southeast into the Mid-Atlantic and New England on Thursday. Marginally severe hail also appears possible."
We also have a Gale Warnings for Today for gusts to 35 mph and waves to 6-8 feet.
ALSO: New snowfall in N. Dakota: 14″ Fessenden, 13″ Dickinson, 12″ Mandan, 11″ Hebron, 10″ Bismarck, 8″ Jamestown, 6″ Minot.