This is an archived article and the information in the article may be outdated. Please look at the time stamp on the story to see when it was last updated.
What do you need to grow a bonsai tree indoors?
Bonsai have been cultivated for thousands of years. It may have started in China, but the art of bonsai as we know it today was refined by the Japanese. This training of mature trees into impossibly small, intricate shapes has its roots in Zen Buddhism, which may be why it's considered a peaceful, meditative practice. Bonsai are seen as symbols of peace, patience, harmony and luck, and growing them can help open up a world of peace and tranquility.
Growing your own bonsai tree indoors requires careful tending using the proper tools.
Starting from seed vs. raising an established plant
Whether you choose to grow a bonsai from seed or raise an established plant depends on your skill level, patience and desire for control of the shape.
Growing from seed: "Misho" is the Japanese word for growing a bonsai from seed. It requires a great deal of patience, as seedlings cannot be shaped for a minimum of three years. If you want to start from seed, a bonsai starter kit is a good way to go.
Raising an established plant: Established trees are easier to care for, but the shape is already established.
Style of bonsai trees
There are five basic styles of bonsai.
Formal upright (chokan): The tree grows straight from the bottom, with branches getting smaller toward the top.
Informal upright (moyogi): This style mimics a tree's natural twists and turns in nature, with artfully contorted and sagging branches.
Semi-cascade (han-kengai): This mimics a tree hanging over a cliff edge, with branches that dip below the rim of the pot without touching the base.
Full cascade (kengai): The tree cascades below the base of the pot. Bonsai rules dictate that it must not touch the surface that is holding the pot.
Slanting (shakan): This resembles a formal upright bonsai that has been blown to one side by the wind.
What an indoor bonsai tree needs
Regardless of where your bonsai starts, it needs the same things to grow. These requirements may vary, depending on the species of bonsai tree you have, so tailor each element to the plant in front of you.
Humidity: Most bonsai species require high humidity, which can be a challenge in colder climates. To help, position your bonsai on a tray filled with water and mist it daily.
Light: Indoor bonsai trees need plenty of south-facing light to thrive indoors. If you have inadequate natural light, artificial lighting can help. Make sure you activate artificial lighting for 10 hours a day.
Water: Most indoor bonsai come with watering instructions, but these may not match your particular indoor climate. Carefully check your bonsai and water only when it's needed.
Fertilizer: Use only fertilizer designed for bonsai, and for your tree species in particular. Follow the suggested schedule, and be careful not to over-fertilize.
Stable temperature: Tropical bonsai typically need higher temperatures than the standard home maintains. Subtropical species might be a better choice.
Indoor bonsai trees for beginners
Some species of bonsai are easier than others for beginners to raise indoors.
Ficus: This is one of the most resilient types of bonsai. It's good for beginners who routinely forget to water their houseplants.
Juniper: Juniper trees are easy to train with wire and a good place to start if you want to dive into the world of shaping bonsai.
Chinese elms: Chinese elms are good teachers of basic pruning of bonsai.
Broadleaf: Broadleaf trees include species such as olives, boxwood and holly. These shrub-like trees are easy to train by clipping. Beginners like them because they are resilient and can handle under-watering.
Everything you need to grow a bonsai tree indoors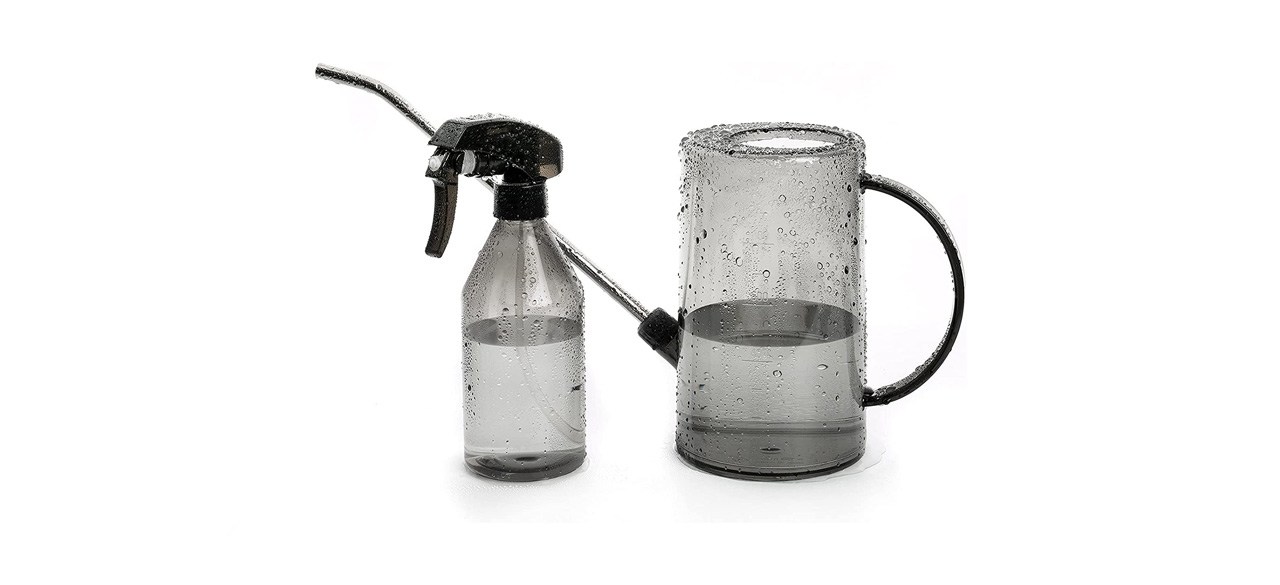 Aoraki Watering Can With Bonus Plant Mister Spray Bottle
The long stem spout of the watering can make it easier to water in smaller spaces. It controls and directs water exactly where you need it. There are measurement marks on the side to keep track of water consumption. The mister holds 10 ounces of water for less refilling.
Sold by Amazon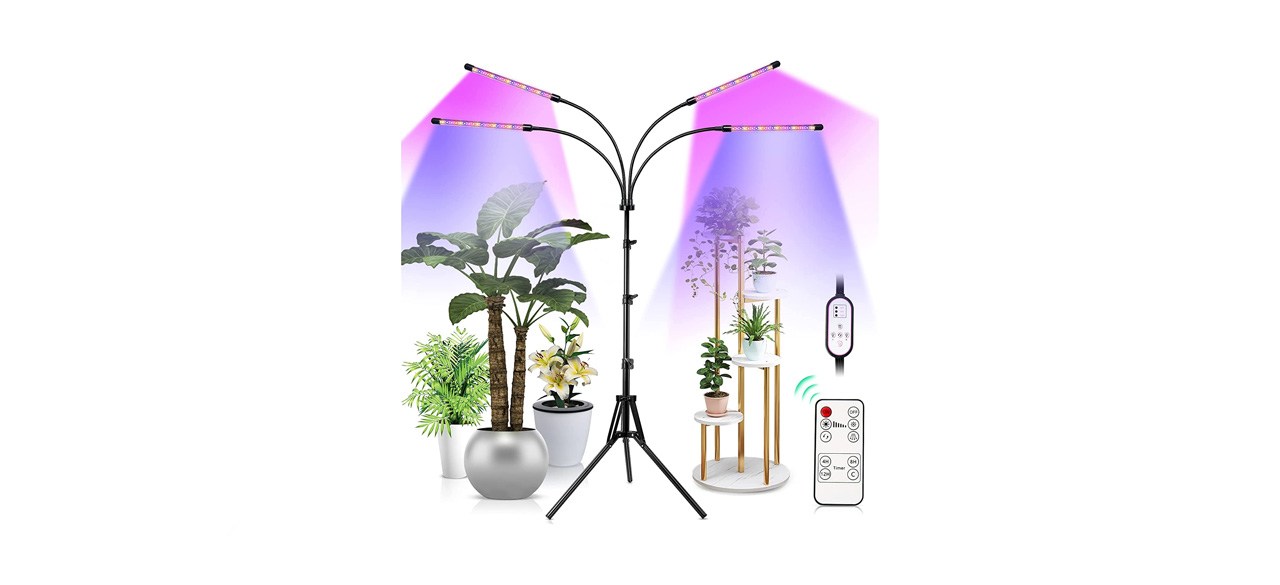 Set it and forget it with this multi-armed LED grow light. It's freestanding on a tripod, so there's no need to hang it or install hardware. You can program it to add light every four, eight or 12 hours and adjust both its brightness and the distance between it and plant. It has 10 dimmable modes and three spectrum modes to change as your bonsai grows.
Sold by Amazon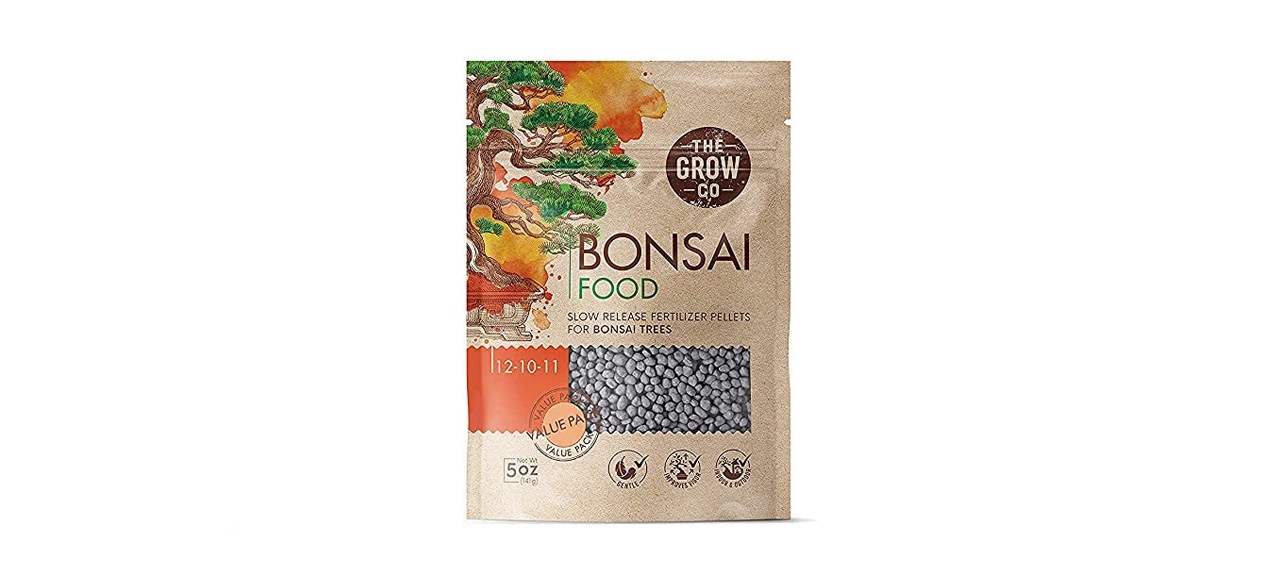 The Grow Co. Bonsai Fertilizer
This balanced slow-release fertilizer gently supports strong growth in the roots, trunk and leaves. One package feeds bonsai up to 35 times in 6-inch pots and 20 times in 9-inch ones. You don't need to mix or add water, just scatter pellets at the base of the tree. It works for all common beginner-friendly bonsai.
Sold by Amazon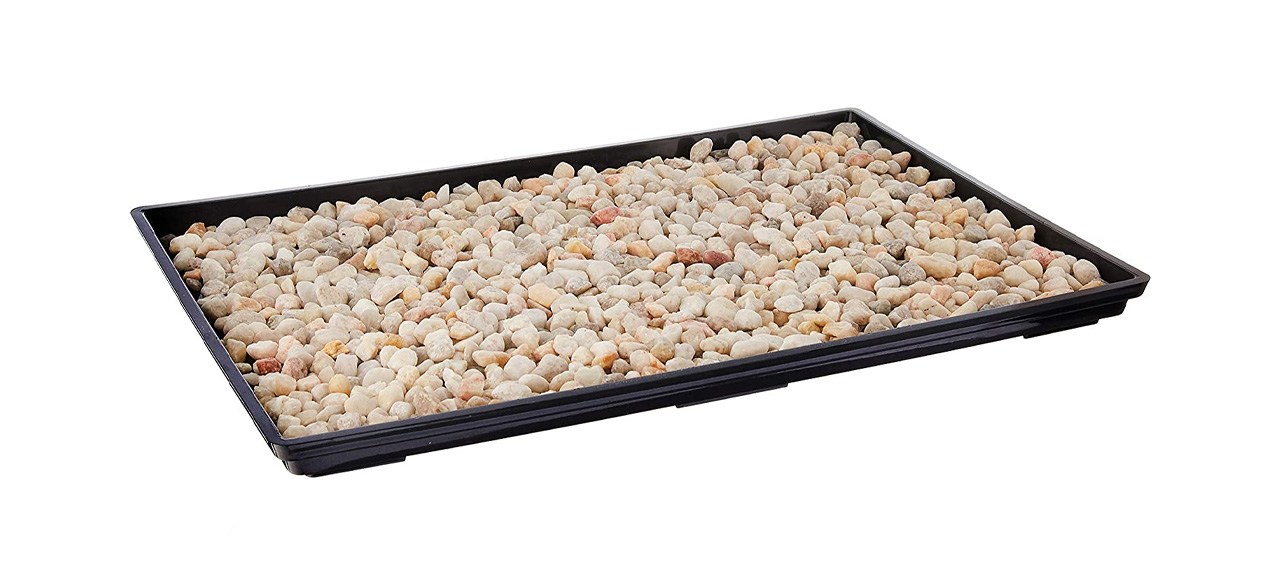 Brussel's Humidity Tray with Decorative Rocks
This 13-inch rectangular tray comes with decorative rocks, perfect for propping your bonsai up when it needs extra humidity. The heavy-duty plastic is durable and protects surfaces from condensation and moisture. It's also available in 8-inch size.
Sold by Amazon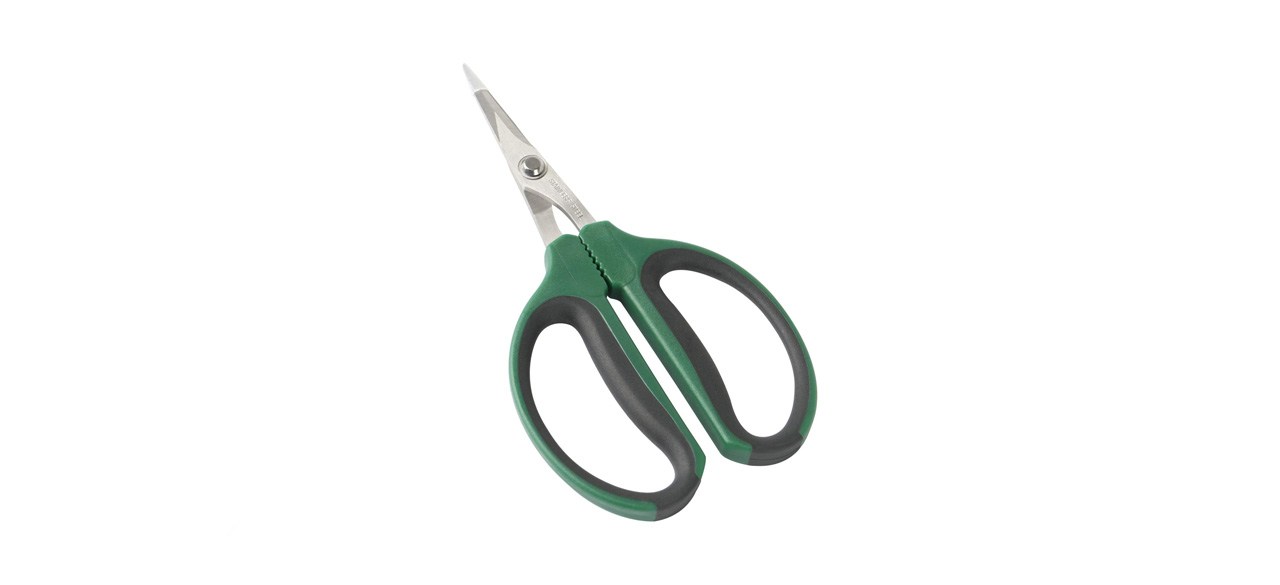 CastleGreens Garden Bonsai Pruning Shears
These scissors can be used by both left- and right-handed people. They have a rubber grip for stable, secure and precise trimming. They're stainless steel with a 6-inch blade length, perfect for tight spaces, and are light to reduce hand fatigue as you work.
Sold by Amazon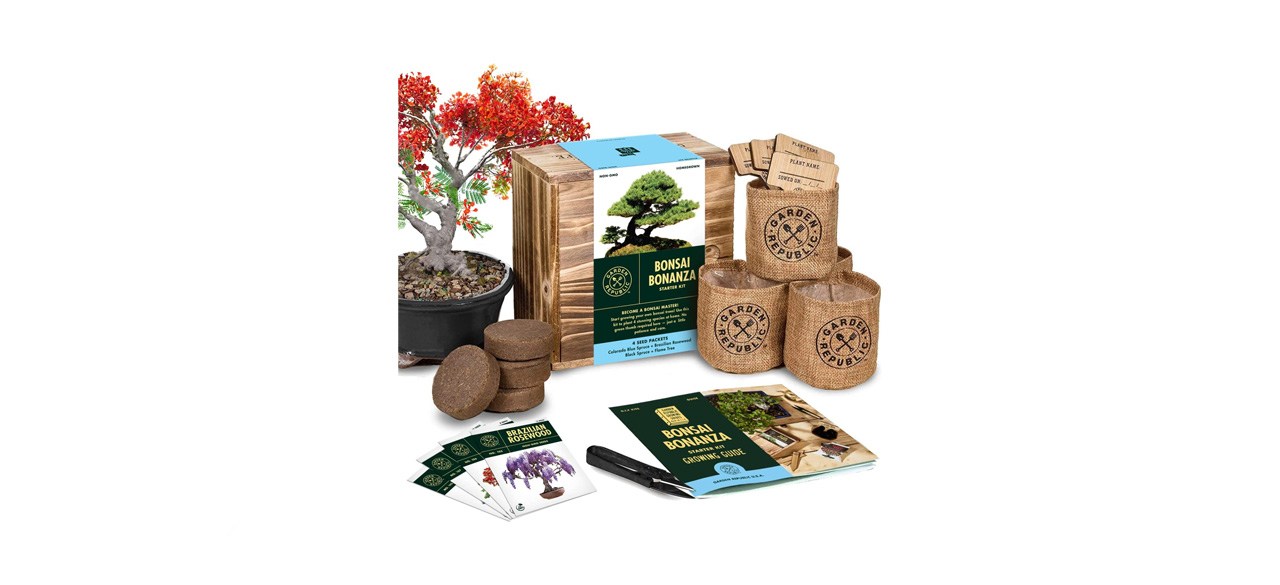 Garden Republic Bonsai Tree Seed Starter Kit
This comes with four seed options, which are Brazilian rosewood, Colorado blue spruce, flame tree and black spruce. Everything you need is included: soil discs, grow bags, plant markers, bonsai shears, and a wooden box for planting. Customer support is available through detailed instructions and a private Facebook growing community, plus instructional videos available online.
Sold by Amazon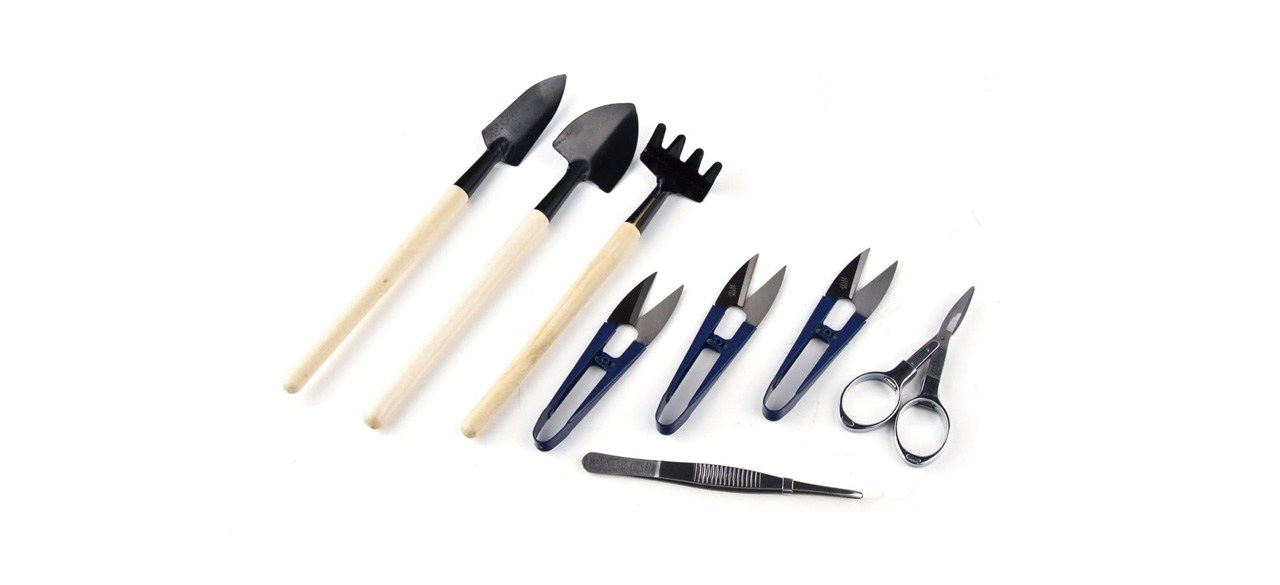 This eight-piece set is suitable for beginners and has everything you need to maintain a bonsai. It includes three pruning scissors, folding scissors, a rake, two spades and tweezers. Tools are made from high-quality stainless steel, and everything stores neatly in the included bag.
Sold by Amazon
Want to shop the best products at the best prices? Check out Daily Deals from BestReviews.
Sign up here to receive the BestReviews weekly newsletter for useful advice on new products and noteworthy deals.
Suzannah Kolbeck writes for BestReviews. BestReviews has helped millions of consumers simplify their purchasing decisions, saving them time and money.
Copyright 2023 BestReviews, a Nexstar company. All rights reserved.