Which dishes are best for a nutritious Easter feast?
Among the best parts of any holiday is gathering around a table with your closest loved ones and diving into a delectable feast prepared from scratch. Every holiday has its trademark meals, such as turkey and stuffing for Thanksgiving or ham for Christmas, not counting any personal food traditions you may have. Yet, Easter doesn't have a trademark. Yes, eggs are central to it, but eggs are central to many holidays and meals, considering the forms eggs can take. But that's a strength, not a weakness; it means you can be creative. While being creative, remember to consider your feast's nutritional value, too. It's not as hard as it sounds, especially with the help of registered dietician and BestReviews nutrition expert Molly Bremer.
In this article: C&F Deviled Egg Serving Plate, La Jolie Muse Cupcake Stand and Yardwe Bunny Candy and Nut Bowl.
Appetizers
Appetizers should always be light, as heavy appetizers can make people feel sluggish and fill them up too soon. Appetizers should also tend toward the healthy side; there's plenty of time for delicious treats later. Finally, remember the kind of event you're throwing; if it's a dinner party, you can serve a plated appetizer, but if it isn't, go with finger foods so people can mingle and snack.
For mingling, deviled eggs are top of the list. Bremer loves them because they're "a good source of protein and fat, and are rich in micronutrients such as vitamins B2 and B12, calcium and iron."
For dinner parties, you can't go wrong with a salad. Consider the flavor profile of your next course when choosing what kind. For example, have a sweet salad if your next course is savory, or vice versa.
Main dishes
The main dish of most feasts is typically a protein, such as chicken, pork or lamb. Rabbit is a strong choice for an Easter feast, though you need to consider your audience before going that route. If your group is large, sourcing enough rabbits can be difficult and expensive, and if your group has children, they will likely take great offense to eating the Easter Bunny.
Bremer also reminds meal planners to double-check the dietary restrictions of your invitees. If necessary, have a small alternate main that complies with any/all dietary restrictions of the group. This alternate main is also a great way of offering a more health-conscious option to your guests. Quiches or frittatas are perfect for this and in keeping with the egg-based Easter holiday, though vegans won't be able to partake.
Side dishes
The side dishes of an Easter feast are where you can get the most creative, though you should never forget that they're supposed to pair with your main dish. The most common side dishes are fruit-, vegetable- or grain/starch-based. You can also outsource all your sides by having each of your guests bring one for a semi-potluck-style meal.
Fruit sides could be spiced apples, for example, or cranberry sauce if you can't wait for Thanksgiving. Vegetable sides could be simple roasted vegetables, though you can elevate them with interesting seasoning mixes or by finishing them in some kind of sauce. Grain/starch-based sides could mean macaroni and cheese, a perennial favorite of all ages, or potato casserole.
When making sides, try to avoid calorie-dense recipes. Or, if they're not the healthiest option, make sure to limit your portion sizes.
Desserts
The dessert course is more important than you realize; being the last thing your guests will eat, it will occupy a large portion of their memory of your event. A successful dessert just needs to be delicious. Don't worry about health, especially if the rest of your recipes were appropriately healthy and your portion sizes were correct.
If you want to keep it simple, brownies or cookies are more than enough and can be served with ice cream if you want to impress. A good pie or cake takes more effort but is usually worth it. Finally, consider serving coffee or a digestif with it for easy bonus points.
Health and happiness
All said about nutritional content and portion control, at the end of the day, Easter is a holiday. It's a time to celebrate and be happy, and if that means having an extra portion of mac and cheese or adding bacon to your deviled eggs, do it, with the support of Bremer. She said, "Having fun foods included in your diet is as important for your health as fruits and vegetables," and that she approaches health in a holistic way that's a combination of the physical, mental, emotional, social and spiritual. You can return to your usual diet the day after — or when the leftovers run out.
Best expert-recommended kitchenware for Easter meals
Part of the holistic approach to eating is using fun serving plates and other kitchenware. Feasts are just as much about the eyes as the stomach, after all. These are some of Bremer's Easter favorites.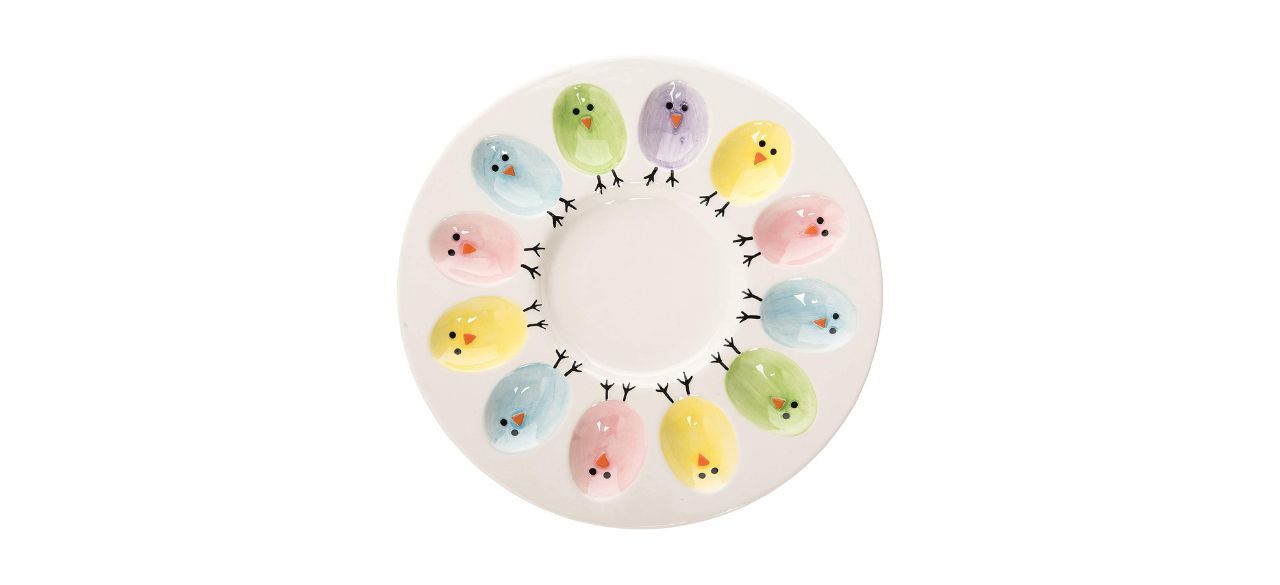 This adorable dish can hold up to 12 deviled eggs on the edges with room in the center for more or for holding other foods, such as a bowl of dip. It's dishwasher-safe.
Sold by Amazon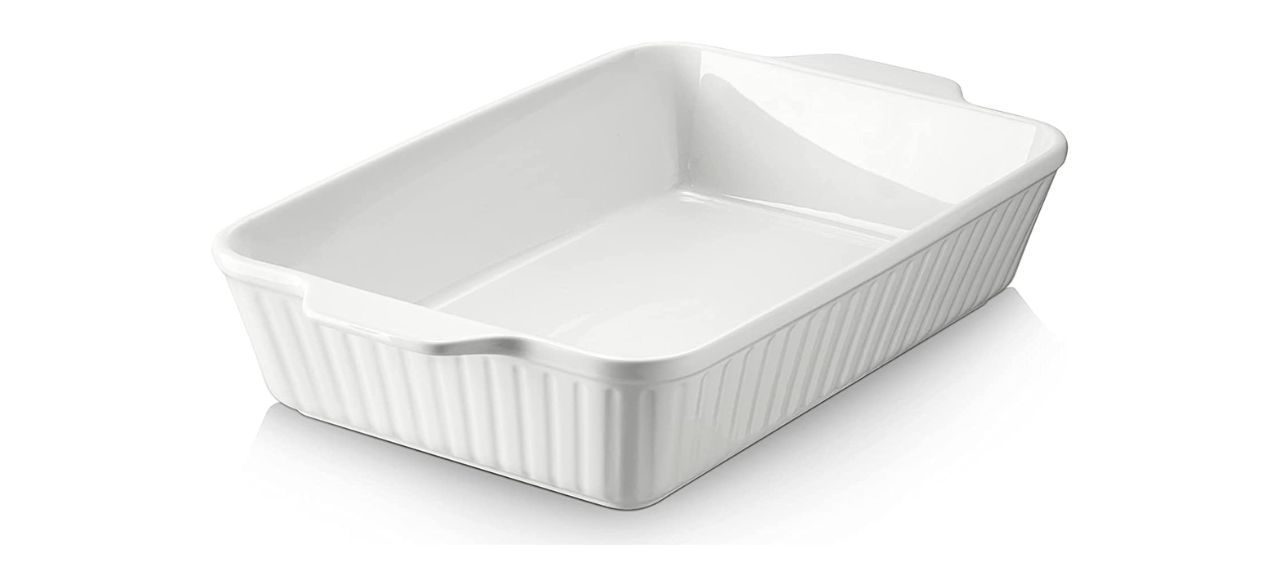 Dowan Ceramic Baking Dish, 9 by 13 inches
This dish is perfect for making lasagna or frittatas and can hold up to 135 ounces of food. You can also buy it as a set of three different-sized baking dishes. It's microwave-safe.
Sold by Amazon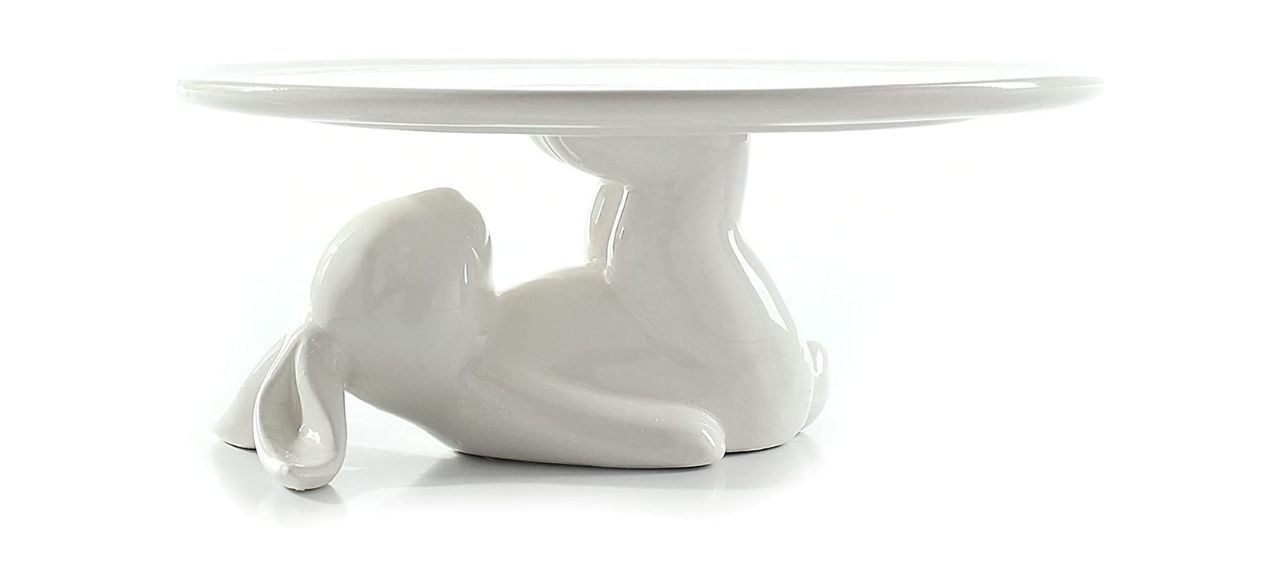 La Jolie Muse Ceramic Bunny Cupcake Stand
With measurements of 8.3 by 8.3 by 3.5 inches, this stand is excellent for holding small cakes or a set of cupcakes or cookies. The bunny on the bottom is Easter-ready, but rabbit fans will love it all year.
Sold by Amazon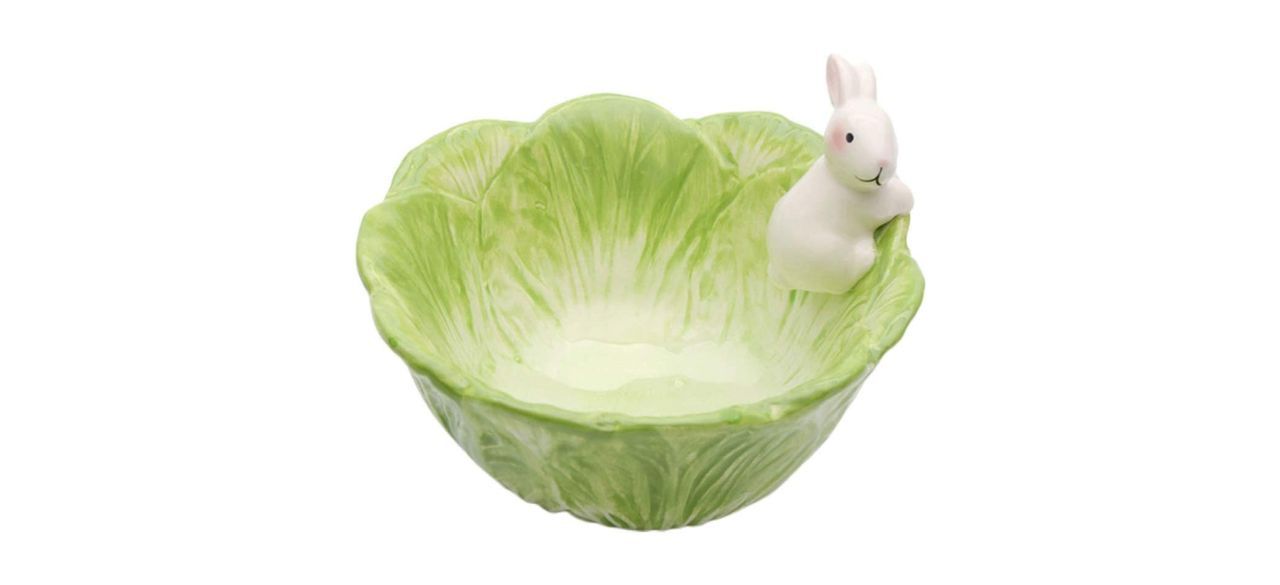 Yardwe Bunny Candy and Nut Bowl
This bowl is excellent for holding nutritious nuts or jelly beans (it's Easter after all; you have to have some sweets on hand). It has a nonslip bottom.
Sold by Amazon
Other best kitchenware for Easter meals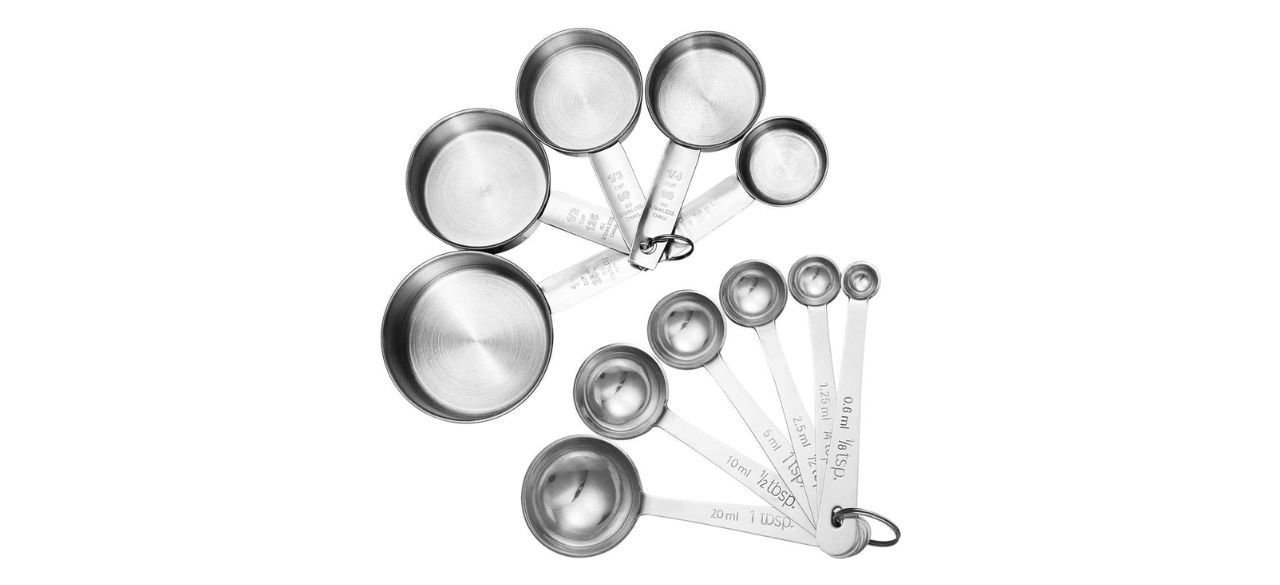 Accmor 11-piece Measuring Spoon and Cup Set
The set includes five cups covering measurements between one-eighth and 1 cup and six spoons covering measurements between one-eighth of a teaspoon to 1 tablespoon. They stack for easy storage, and the stainless steel material is rust-resistant and dishwasher-safe.
Sold by Amazon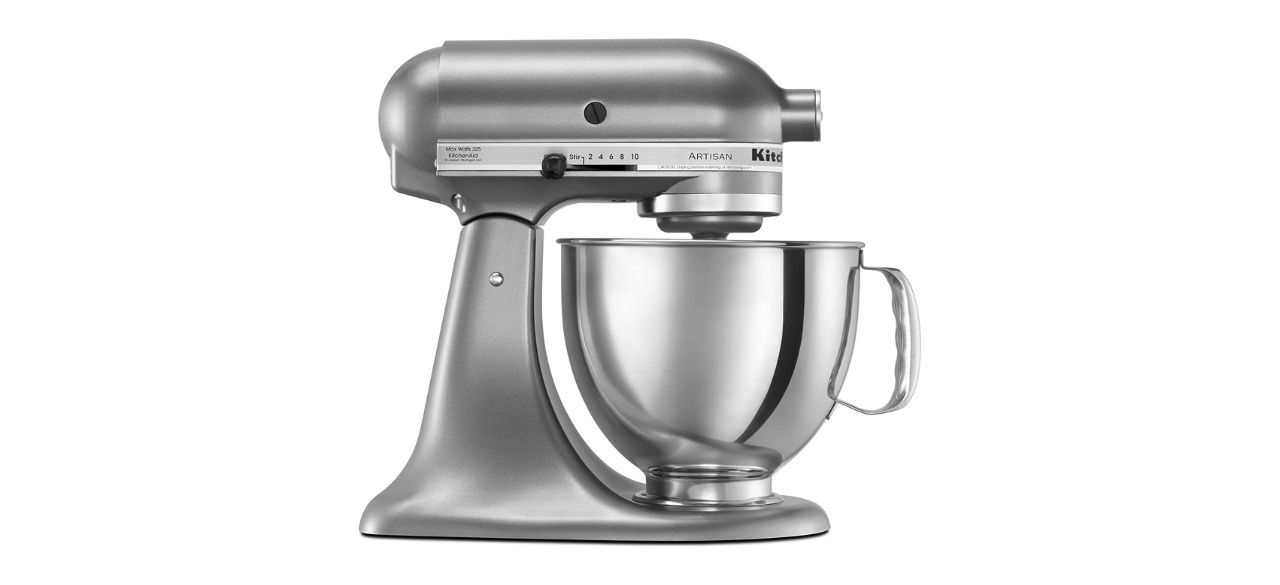 KitchenAid Artisan Series 5-quart Stand Mixer
A stand mixer is every home cook's best friend because it takes most, if not all, of the effort out of mixing ingredients and is especially perfect for bakers. It comes with three mixing attachments. You can buy many attachments for it later, including a pasta roller and cutter.
Sold by Amazon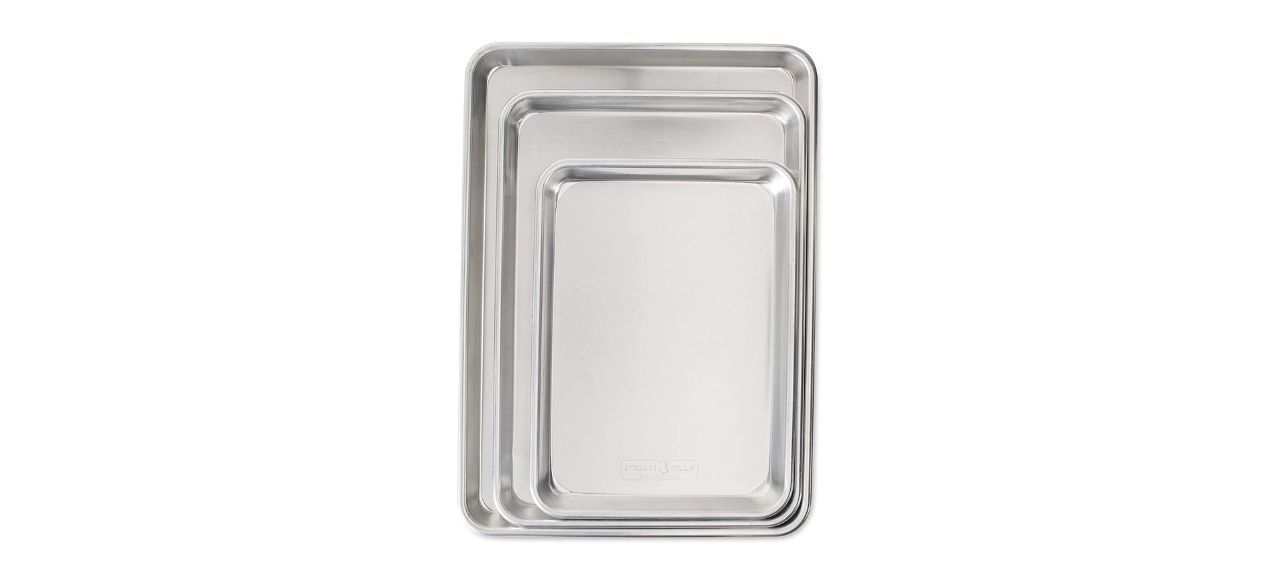 Whether your Easter feast requires cookies, toasted nuts or roasted vegetables, every kitchen needs a set of baking sheets. There are three in this set, all in different sizes and made of aluminum.
Sold by Amazon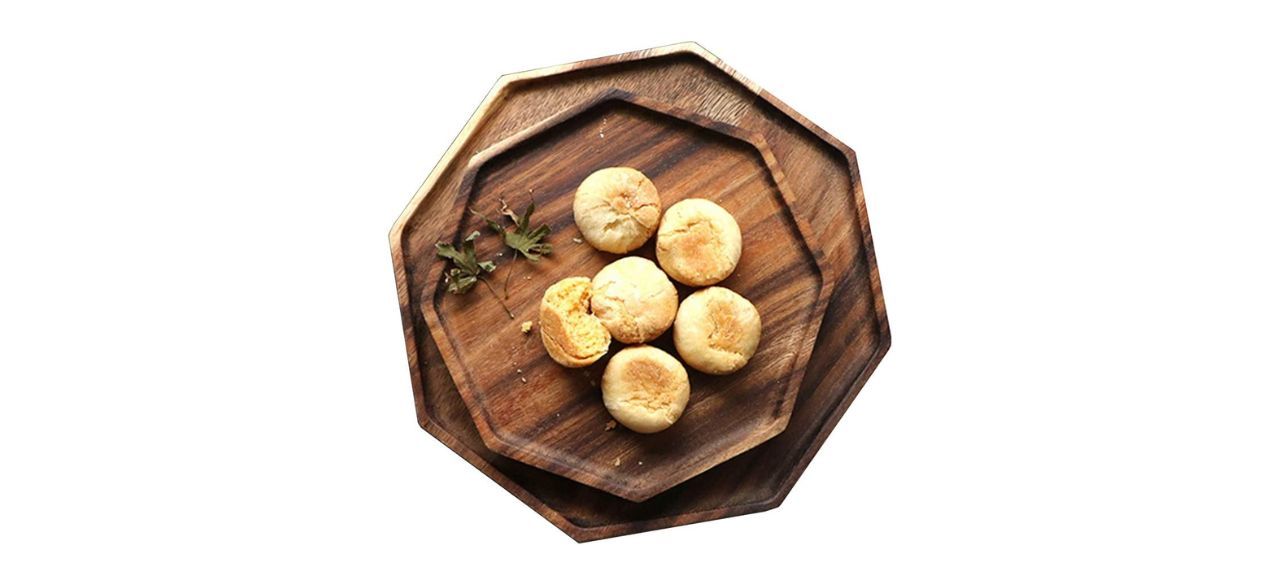 This beautiful set of wooden serving platters is perfect for displaying your main dish or gathering your rolls together. One is 10 inches, and the other can be 8 or 12 inches, depending on the set you buy.
Sold by Amazon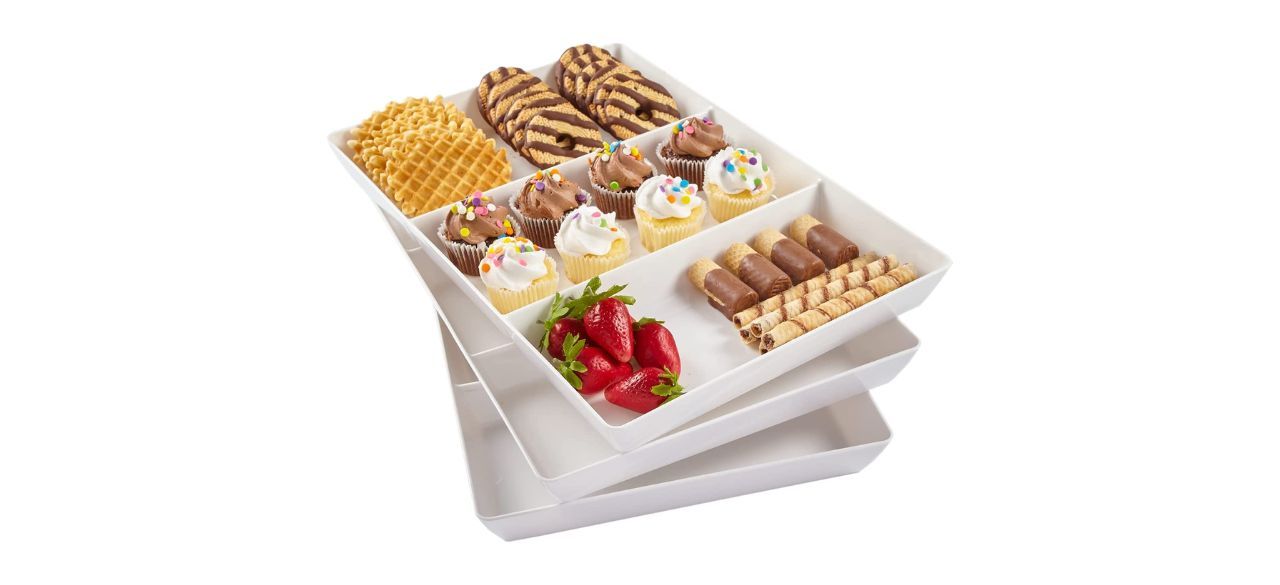 These sectioned trays save space on your table since you can group liquids and other sides that you wouldn't want to run and mix on one tray. There are two trays included, both divided into three equal sections.
Sold by Amazon
Want to shop the best products at the best prices? Check out Daily Deals from BestReviews.
Sign up here to receive the BestReviews weekly newsletter for useful advice on new products and noteworthy deals.
Jordan C Woika writes for BestReviews. BestReviews has helped millions of consumers simplify their purchasing decisions, saving them time and money.
Copyright 2023 BestReviews, a Nexstar company. All rights reserved.