This is an archived article and the information in the article may be outdated. Please look at the time stamp on the story to see when it was last updated.
How to pick the best balloon arch kit
When it comes to event planning, decorations can fall by the wayside. The food, activities, location and invitees are usually what's focused on. But without decorations, an event may as well just be a common gathering.
Among the least expected decorations, and the most impactful, is a balloon arch. These beautiful creations can be used for anything from a spicy entranceway to a photo backdrop, and fit in perfectly with both casual and high-end event types.
In this article: Kawkalsh Balloon Arch Kit, Party Zealot Balloon Arch Kit and Bezente Party Balloons.
Balloon arch kit types
Balloon arch kits can contain several kinds of items, with many mixing and matching what's included. For simplicity, they can be broken down into three types.
Refill kits contain the fewest items and are often, as the name suggests, bought by those who already have some balloon arch kit materials. Typically, they contain adhesive strips like the ones the balloons are attached to or strips containing double-sided "glue dots" so you can attach your balloons to essentially anything. They might also include balloons, but this is uncommon.
Starter kits contain most of what you need to build a balloon arch, such as poles, clamps, tools to help you quickly tie your balloons, adhesive strips and hooks to hang poles or balloons. Like refill kits, they also only occasionally include balloons. These kits may also include a hand pump for inflating balloons with air instead of helium.
Complete kits do contain everything you need to make a balloon arch, including balloons. However, they typically only include what's necessary to build one kind of arch. For example, one may include clamps and poles while another may include strips. Because how people want to fill their balloons varies, hand pumps are not guaranteed.
Air vs. helium
There are pros and cons to each of these common balloon-filling gases.
Air-filled balloons stay inflated much longer, potentially up to two or three days. This makes them perfect for long-running events. You can also fill them for free, though you should get a pump of some kind so you don't pass out from lack of oxygen by filling them with your breath. The downside is that they droop, making for a potentially lifeless-looking arch.
Helium balloons don't stay inflated for long, typically just three to six hours. You also need to buy helium, which can quickly get expensive if you're planning a large arch. Finally, all those helium-filled balloons can pull your arch away if it isn't properly secured. However, the almost lifelike quality of helium-filled balloons makes for a better arch, hands down.
Indoor vs. outdoor balloon arch kits
Whether you want to put your balloon arch inside or outside comes with certain considerations you should know.
Indoor-placed arches can be more varied in their designs and placements. Instead of a classic arch, for example, you can do inverse ones that hang from the ceiling. They also don't need to be too tightly secured, even if filled with helium, as they're not being pulled and pushed by any wind or other outside force.
Outdoor-placed arches can typically only be made in a standard way unless you're particularly creative. They also need to be rigorously secured using weights, ties and or other methods to prevent them from moving under the effects of all the forces found away from enclosed shelters.
Balloon arch kits cost
Refill kits typically cost less than $10, though those with balloons may cost a dollar or two more. Starter kits typically cost $10-$30 depending on the quality of the kit and how much is included. Complete kits typically cost $20-plus, again depending on the quality and what's included.
Best balloon arch kits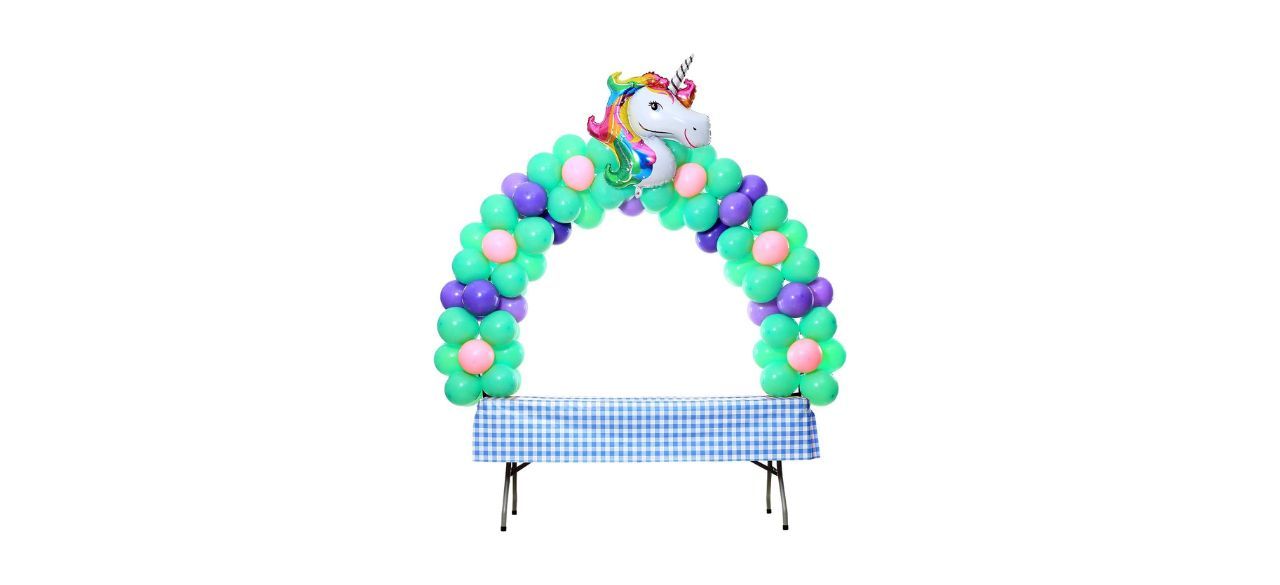 This kit contains two table clamps, 10 1.36-foot poles with a combined length of 13.6 feet, 50 balloon clips and a hand pump for inflating your balloons.
Sold by Amazon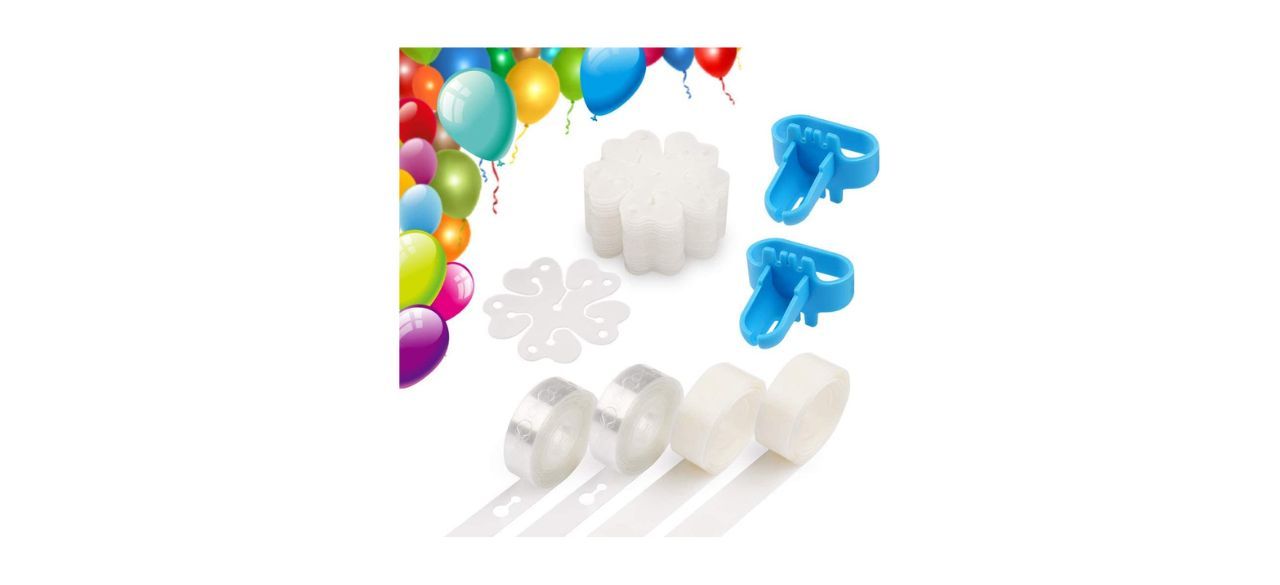 This kit includes two balloon tape strips that are 16.4 feet long and can hold up to 110 balloons each, two tying tools, two glue craft strips with 100 dots per strip and 20 holder clips.
Sold by Amazon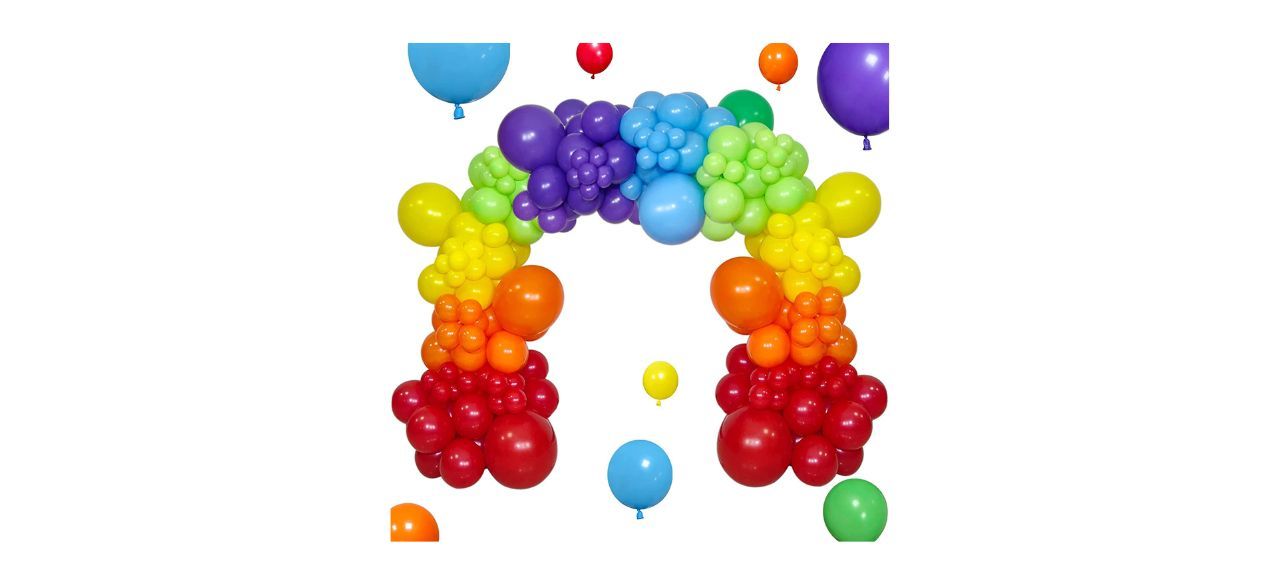 This kit includes one roll of ribbon, one 16.33-foot balloon chain, one glue roll containing 100 glue dots and 108 balloons split among three sizes. There are seven single-color balloon kits and one multi-color balloon kit.
Sold by Amazon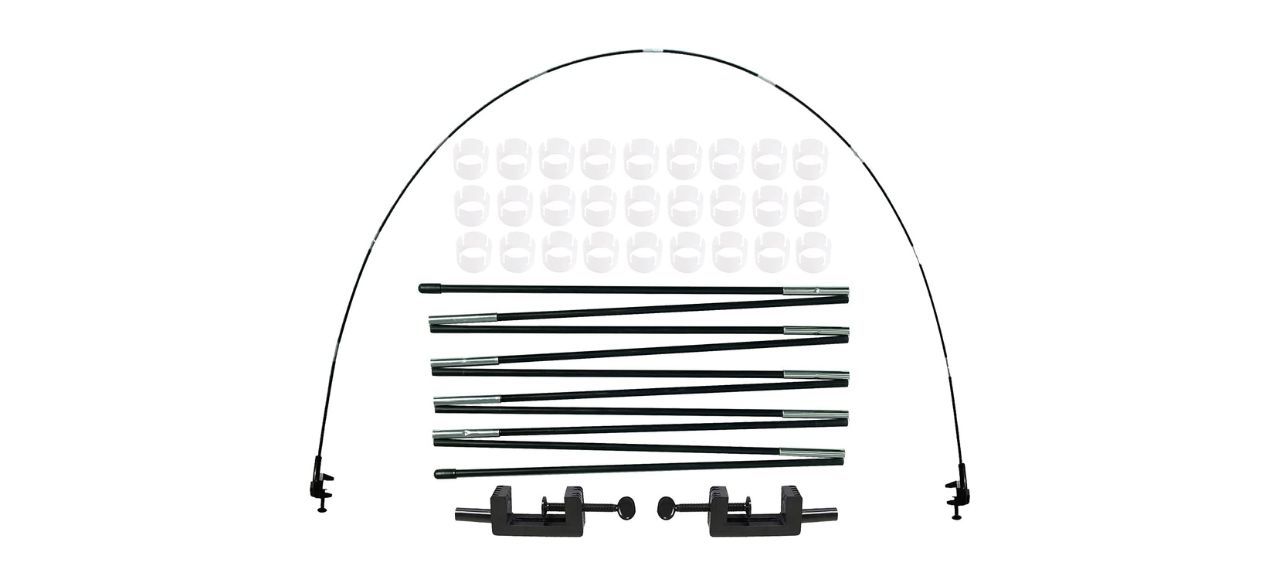 This kit includes 10 15-inch rods that make a 12-foot pole if all are used, two C-shaped plastic clips and 25 balloon ring clips. It comes in black or white.
Sold by Amazon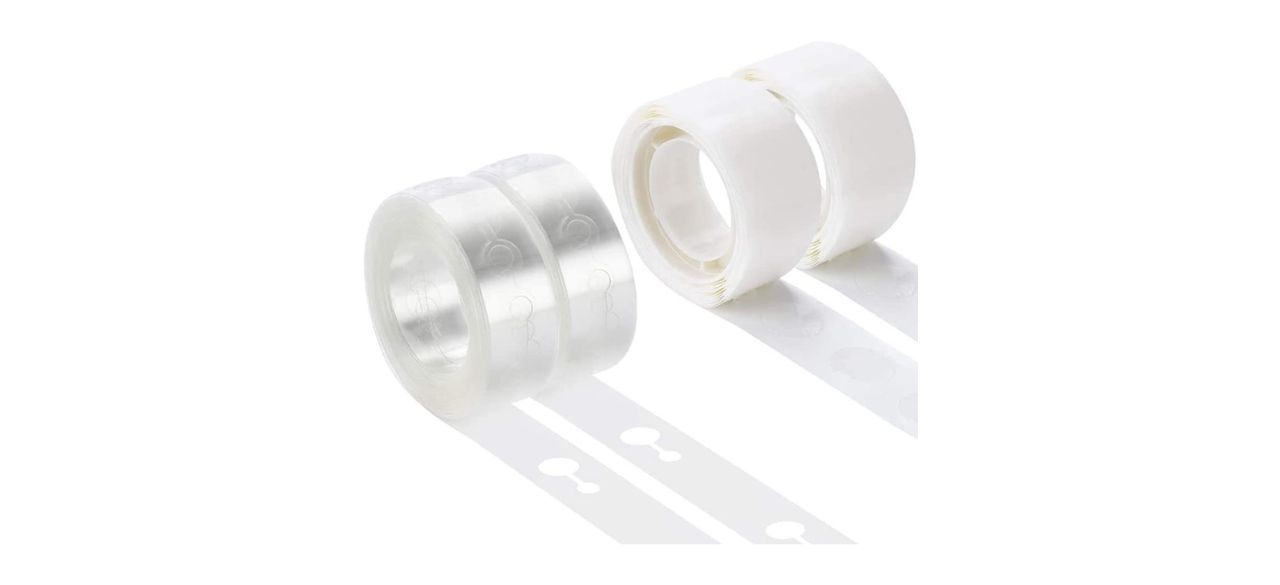 Monochef Balloon Arch Decorating Strip Kit
This kit only contains two rolls of balloon tape strips that are 16 feet each with 220 holes per roll and two rolls of balloon glue points that have 100 dots each, so it's perfect for those who already have other balloon arch hardware. Please note that this kit does not include balloons.
Sold by Amazon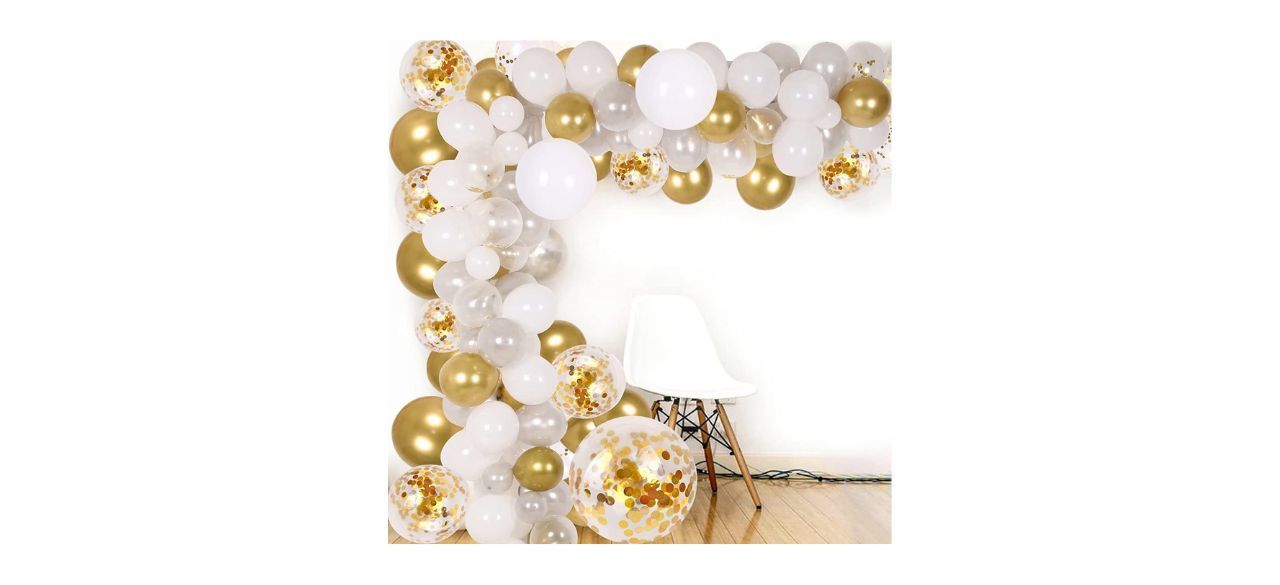 This kit contains one 16-foot-long roll of arch strip tape, two tying tools, 100 glue points on one glue roll, five hooks, one 32-foot roll of ribbon and 128 balloons split between four colors. There are five balloon color sets.
Sold by Amazon
Best party balloons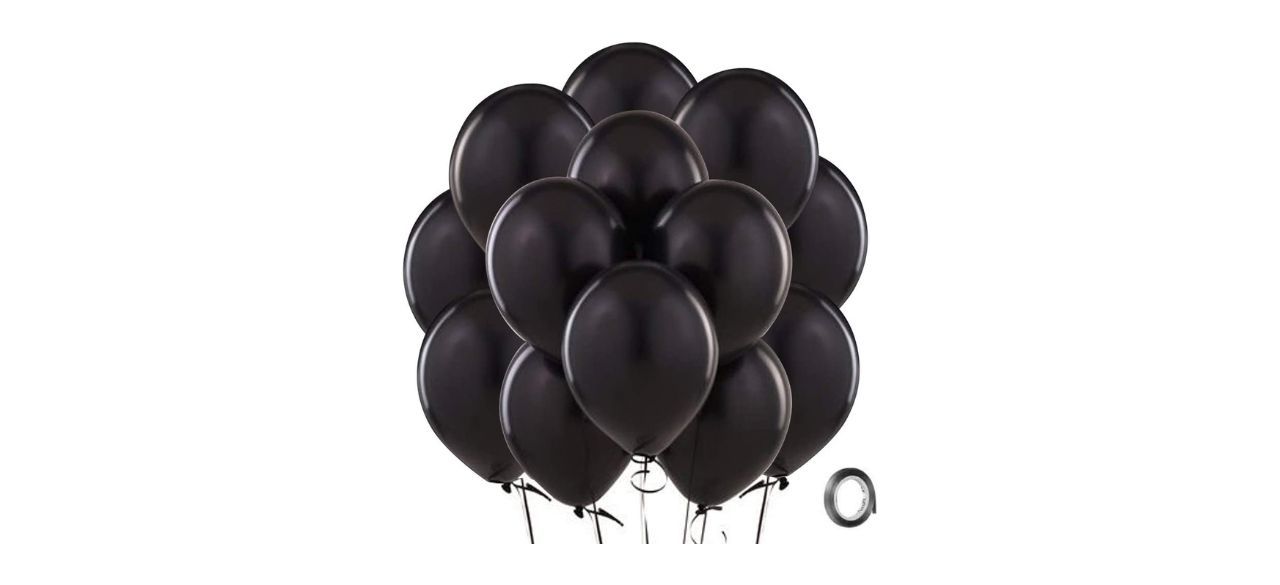 This set includes one 33-foot roll of ribbon and 100 12-inch balloons made of environment-friendly latex, which also makes them more durable and gives them no strange odor. They come in 19 colors.
Sold by Amazon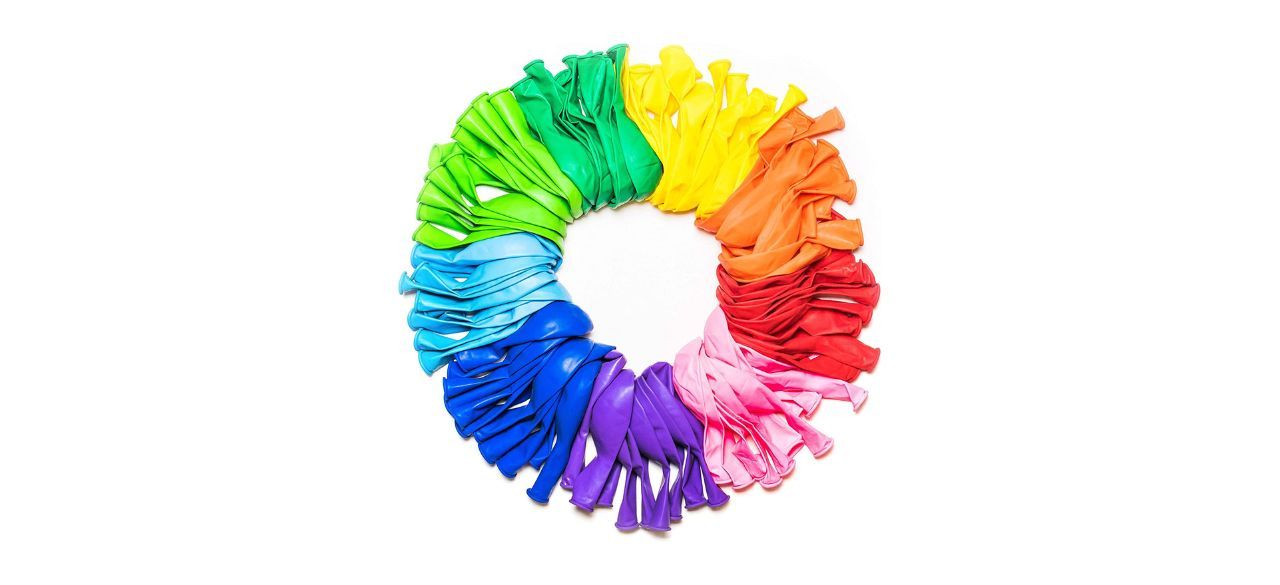 This set includes 100 12-inch balloons with 11 each in nine colors (including one extra in one color): pink, red, orange, yellow, green, neon green, light blue, blue and purple.
Sold by Amazon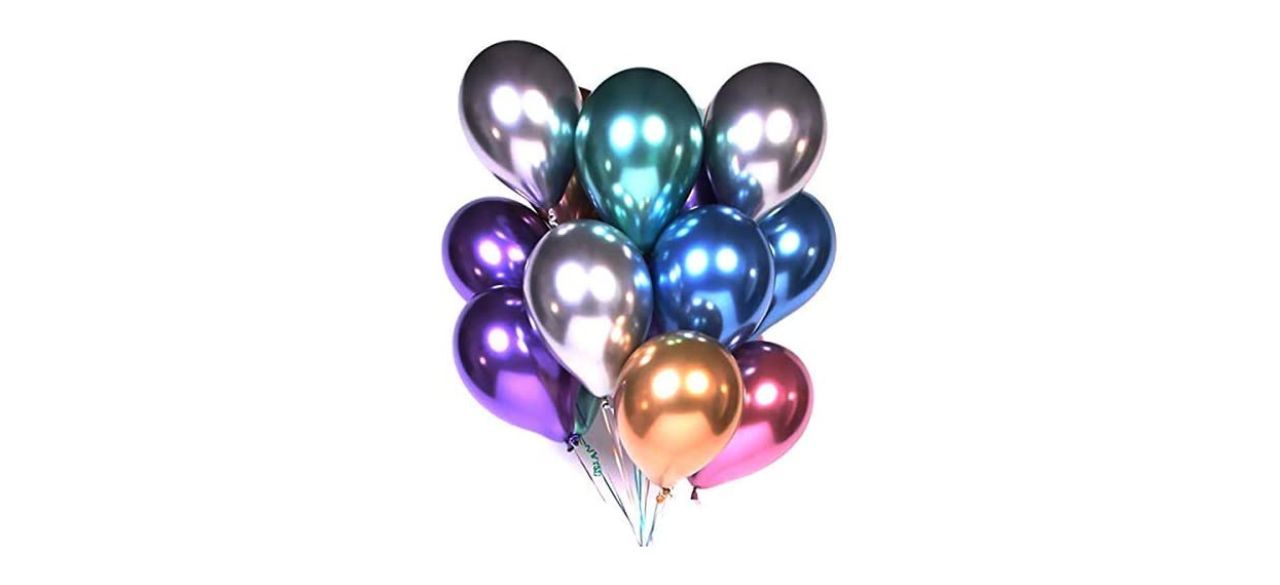 Pukavt Metallic Party Balloons
This set includes 50 12-inch balloons in assorted metallic colors that make them more eye-catching than most. The balloons last roughly 48 hours if filled with air and three to six hours if filled with helium.
Sold by Amazon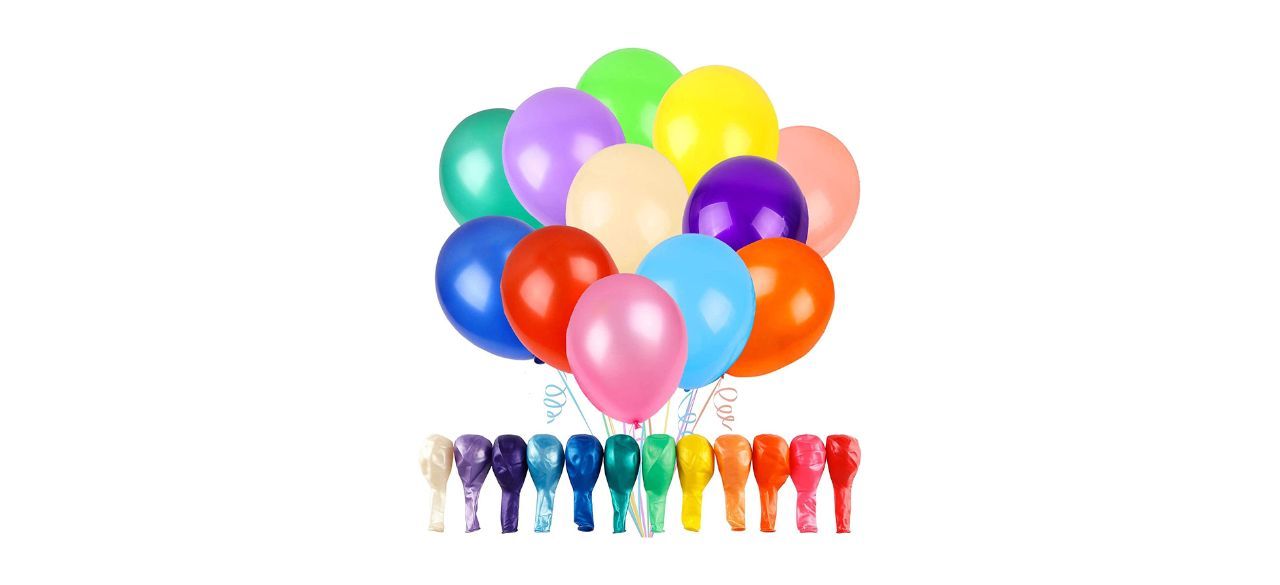 Rubfac Assorted Color Rainbow Party Balloons
This set includes 120 12-inch balloons with 10 each in 12 colors: red, orange, pink, white, yellow, purple, light purple, dark blue, light blue, dark green, fruit green and crimson.
Sold by Amazon
Want to shop the best products at the best prices? Check out Daily Deals from BestReviews.
Sign up here to receive the BestReviews weekly newsletter for useful advice on new products and noteworthy deals.
Jordan C. Woika writes for BestReviews. BestReviews has helped millions of consumers simplify their purchasing decisions, saving them time and money.
BestReviews spends thousands of hours researching, analyzing and testing products to recommend the best picks for most consumers.
Copyright 2023 BestReviews, a Nexstar company. All rights reserved.