(NerdWallet) – The Super Bowl is coming, and fans from Philadelphia, Kansas City and elsewhere are pouring into Phoenix to catch the game and its related spectacles. This soaring travel demand has run into the real-world limitations of finite hotel rooms and airline routes, creating a scramble for availability and sending prices through the (stadium) roof.
Round-trip airfare to Phoenix is averaging $375, according to Hopper, a travel booking platform, while hotels are running an average of $575 per night. That means a traveler looking to make a three-day weekend trip could spend $2,100 on the bare travel necessities.
And those expenses will pile on top of the ticket price for the Feb. 12 game. The median cost of a ticket was $8,100 as of Jan. 31, according to Vivid Seats, a ticket sales service. That might sound like a lot, but put in another perspective, $8,100 would only buy 35 milliseconds of televised ad time at the reported rate of $7 million per 30 seconds.
Flights
Given how the cost of tickets have bounced back from pandemic lows, paying $375 for round-trip airfare isn't especially outrageous. But those prices could get much higher as the game approaches.
Hopper estimates that tickets will max out at $500, but prices won't be evenly distributed throughout the week around the game. Those trying to arrive in Phoenix on Thursday, Feb. 9, and leave on Monday, Feb. 13, will pay the most, while those willing to risk it and fly in at the last minute on Saturday and leave on Tuesday could pay half as much.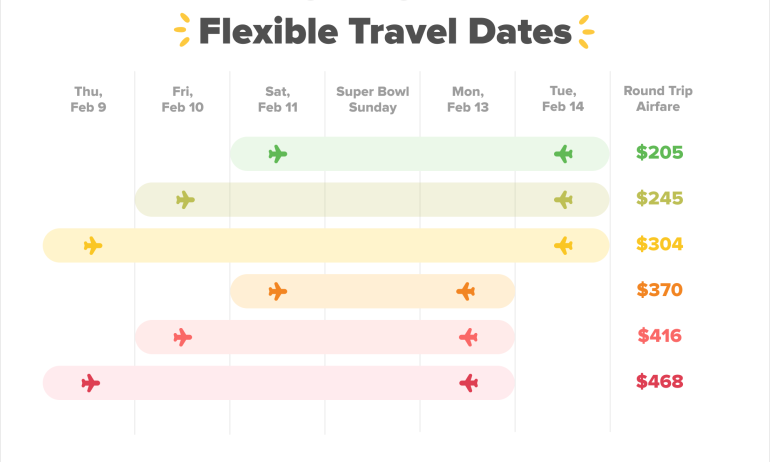 Availability for peak dates could actually disappear as planes fill up, so anyone still holding off on purchasing tickets should snap to it — and consider flying on off-peak days.
What can airfare trends tell us about the relative rabidness of the Chiefs and Eagles fandoms? According to Hopper, flight searches from Philadelphia to Phoenix surged by 169% after the Eagles secured their berth, while searches from Kansas City to Phoenix increased by only 61%.
Vacation rentals and hotels
Prices on vacation rentals such as Airbnb and Vrbo are — predictably — meteoric, with average daily rates that are peaking at about 83% higher year over year, according to AirDNA, a vacation rental data platform. That works out to a $340 average daily markup on the cost of renting a home.
Renting a home from Friday, Feb. 10, through Sunday, Feb. 13, costs $2,302 on average in 2023 compared with $1,400 last year, though prices quickly adjust themselves back to baseline in the days before and after the event.
Vacation rental hosts seem to be taking advantage of these high rates, as they have added over 400 listings in nearby Glendale, Arizona, since December 2022, according to AirDNA.
What does this mean for travelers? Vacation rental prices might not rise as high, relatively, as other travel expenses, since the supply of available units is somewhat elastic. In contrast, new hotel rooms can't be added at the last moment, so supply will be more constrained and prices could go higher.
Hopper estimates that Phoenix hotel rooms are averaging $575 per night over the Super Bowl weekend. That might be lower than the $700 or so nightly rates for vacation rentals, but note that some vacation rentals are able to house more people than a hotel room.
When will prices touch back down?
Much like Thanksgiving weekend, when travel prices spike due to huge demand meeting a limited supply of flights and lodging, prices should return to Earth by the following weekend. "Normal" visitors to Phoenix this month shouldn't be alarmed unless they had the incredible misfortune of booking their trip during the biggest sporting event of the year.
Last-minute football fans still looking to secure a flight or room might consider one last Hail Mary: using points and miles. Some travel programs, especially those few that still offer award charts rather than dynamic pricing, could offer great value when using points and miles in this way, assuming you can find availability.
And, failing that, you could always drive. Just make sure it's not a rental — they're expensive that weekend, too.